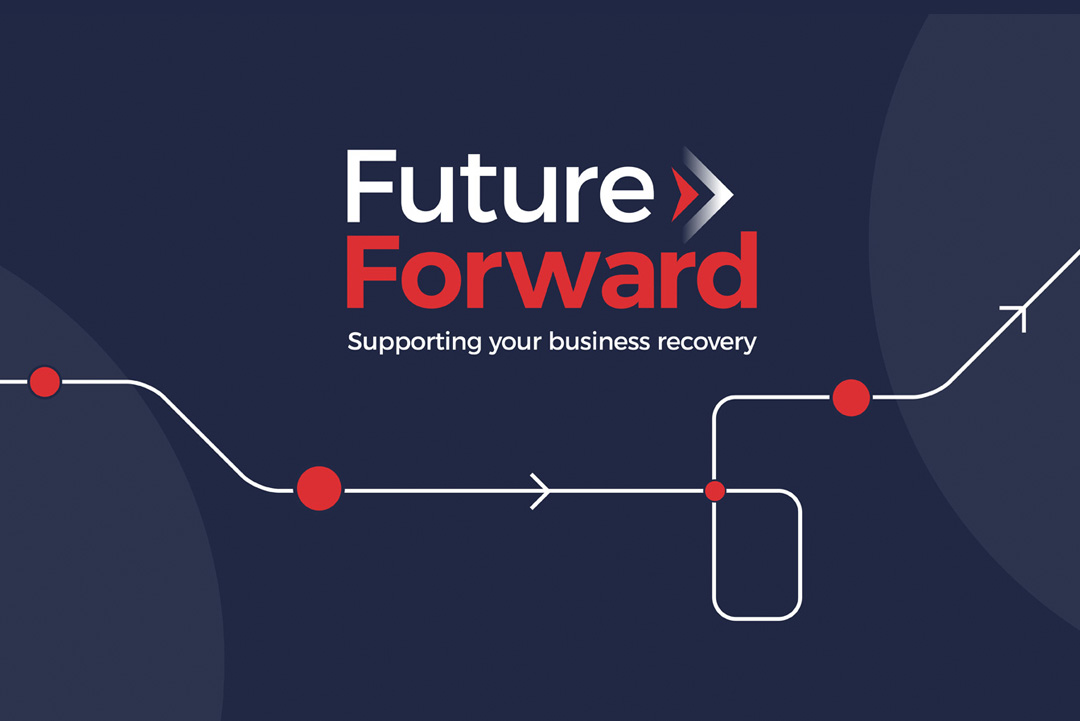 News
FUTURE FORWARD: Locate in Kent launches new business recovery service
Locate in Kent today launches Future Forward, a new business recovery support service, designed to provide businesses across Kent and Medway with the help they need to plan for the future.
Small and medium sized businesses that form the bedrock of the country's economy can finally look ahead with the lifting of lockdown restrictions, introduced as part of government measures to control the COVID-19 pandemic.
Future Forward has been designed to guide SME businesses across Kent and Medway through the challenges they may now be facing. It will help organisations build the resilience they need to adjust to the new economic landscape and carve out new opportunities for success. That will include learning the lessons of lockdown – from the importance of investment in digital systems and technology to the practicalities of flexible working and enabling high performance teams.

All businesses that qualify for the service will receive 12 hours of free consultancy, delivered by a team of Locate in Kent's business advisors and industry experts, including Kreston Reeves and Wilkins Kennedy, who have specialist sector knowledge and insight.

Businesses will have an initial one-hour consultation when they sign up to discuss their specific needs.  This information will help Locate in Kent to provide businesses with the right advice and level of support, bespoke to them.
The team will then work alongside each company to review key aspects of their business operations – from market opportunities, skills and training to financial planning. They will also work with businesses to accelerate plans they may have to embrace technology and digitalisation.
A report, produced for Locate in Kent, by the Centre for Economics and Business Research (Cebr) in May, provides some insight into the impact of lockdown on the county's economy. It estimated an overall loss in GVA of 37% for Kent and Medway, slightly higher than the South East forecast (35%). This fall in economic output was driven by the county's relatively large construction and real estate sector along with wholesale and retail trade.  Companies across all sectors can benefit from the new service.

Gavin Cleary, CEO Locate in Kent, said: "As the Cebr report illustrates, it is vital now that businesses have access to the right advice and guidance as Kent and Medway's economy begins to bounce back from lockdown.
"Future Forward is part of a suite of support that Locate in Kent will be leading on over the coming months, as we help organisations to overcome any challenges they now face and ensure that the Kent and Medway business community comes back stronger. For many businesses that includes learning the lessons from lockdown, including the recognition that business resilience, skills development and digitisation can provide the building blocks for long term success.
"To help deliver the Future Forward programme, we are thrilled to be working alongside Kreston Reeves and Wilkins Kennedy, as well as other specialist business advisors, who will help us to provide the vital support to many businesses across the county."
Tim Levey, Chairman and Head of Business Advisory at Kreston Reeves, said: "I think this is a great initiative and it comes at just the right time for those businesses needing guidance on the way ahead. We're looking forward to supporting Locate in Kent and the businesses in the programme over the coming months."
Hayley Kingsnorth, Director of Accounts & Business Services at Wilkins Kennedy, commented: "We are delighted to be working with Locate in Kent to help local businesses get ready to start up again or revise their business model to enable them to thrive in the current conditions.
"We have been assisting our clients through our Survive, Revive, Thrive initiative and look forward to sharing this within the wider business community in Kent."
For more detail on the Future Forward service, including information on signing up, visit www.locateinkent.com/future-forward
Sign up for the latest news and updates from Locate in Kent