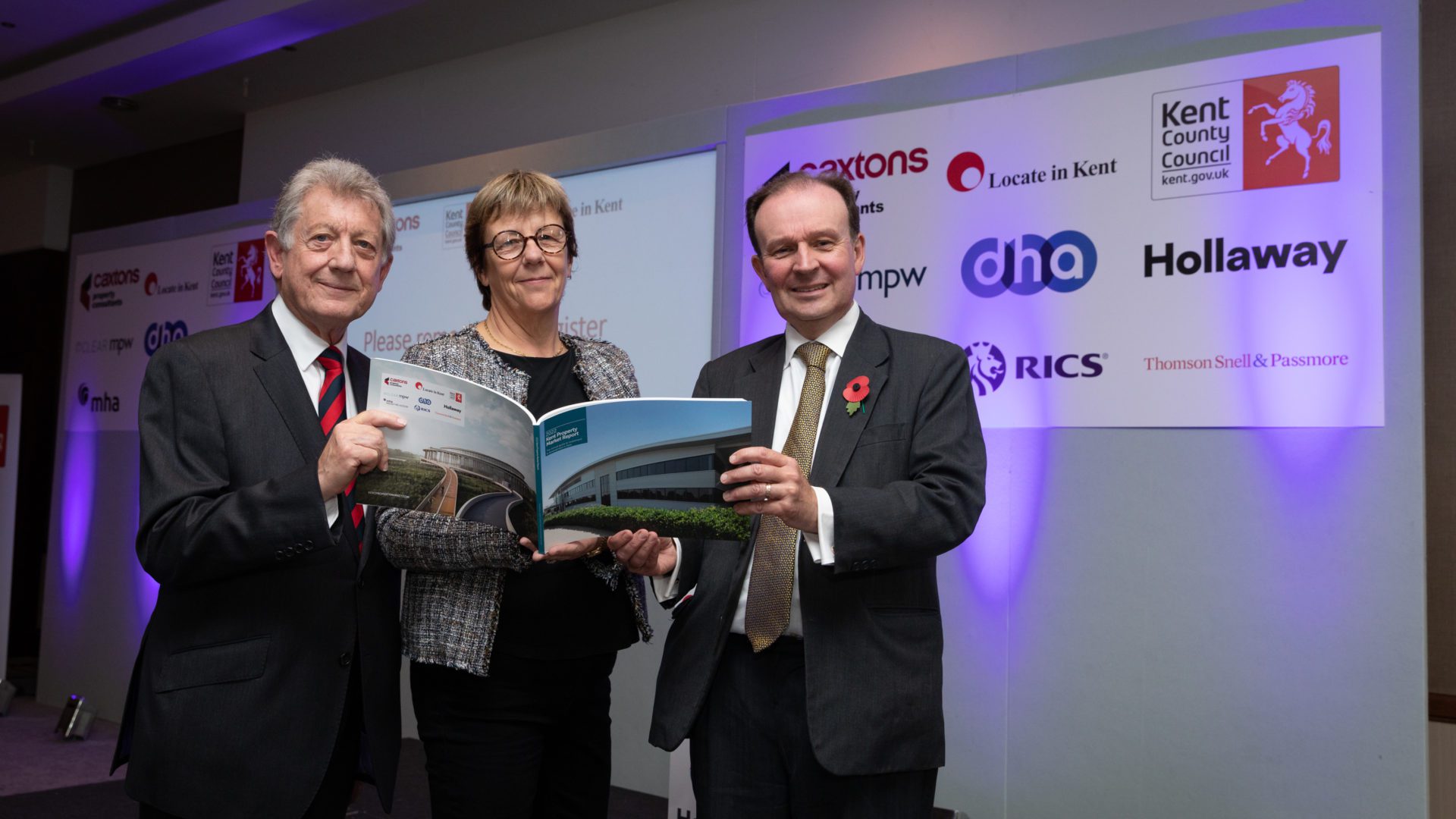 News
Kent's property industry rises to the challenge
Against the backdrop of economic challenges, sections of the county's property industry have continued to do well, according to this year's Kent Property Market Report.
One of the key findings of the 31st edition of the report, produced by Caxtons Property Consultants, Kent County Council and Locate in Kent, is that the industrial market, delivering logistics, distribution and warehousing property, is expected to continue to outperform the South East.
Occupier demand for industrial space has continued to come from online retail, parcel delivery and third-party logistics businesses. With demand high, Kent currently has less than a year's supply of industrial space. As a result, rental levels and land values for industrial property continue to escalate from last year's highs with rents across Kent increasing by eight percent, compared to the South East's average of six percent.
In the last 12 months, the industrial property market nationally has achieved a return on investment of 10.4%, despite the increase in steel and material prices caused by the pandemic and the war in Ukraine.
Industrial land values in some Kent towns have increased by up to 40 percent since last year and yields reached two and a half percent. Occupational demand has continued, with new space coming to market at Aviator in Ramsgate; Panattoni Park Aylesford, and LOC8 near Maidstone.
Kent's other strong performer has been the county's science and business park sector, particularly the former, which have been assisted by the growth of life sciences in the UK which accounted for 18 percent of all UK office lettings in the first quarter of this year. Discovery Park and Kent Science Park have experienced positive levels of lettings and renewals, and both have developed new laboratory and start-up space, a scarcity in the South East.
Cllr Roger Gough, Leader of Kent County Council, said: "It has been a challenging twelve months for the industry. However, once again our location, close to London and the rest of South East, means we have performed well. It is great to see Kent playing its part in supporting the two key sectors of logistics and distribution, and science and innovation, both vital to the economic wellbeing of the country's economy.
"We must acknowledge that it's not all good news and the retail market, and our town centres, continue to wrestle with the changing shopping habits accelerated during Covid, and being hit by the cost-of-living crisis, but we remain confident for the future."
Mark Coxon, Head of Commercial Agency at Caxtons, added: "The industrial property sector has blazed a trail for growth, benefitting in large part from the same factors that have hit the traditional retail market and High Streets.
"The last few months have seen a slight slowdown, however, new product is coming onstream and deals continue to be done. Investment in the life sciences sector continues at pace, with demand high for laboratory space across the South East, with Kent a major beneficiary."
Traditional business parks have also secured lettings and in some cases rents have increased, or remained stable. Kings Hill successfully completed leases totalling 24,000ft2 with four tenants.
Susie Warran-Smith, Chair of Locate in Kent, added: "Over the past 20 years, nearly a quarter of London's employment land is now housing, with most of those employers now operating around the M25, and especially on the Thames Estuary instead, with strong levels of investment in Kent.
"With industrial vacancy rates at record lows, Kent's employment land values have risen to match residential values, and in some areas, doubling it, as the industrial and logistics sector shows no sign of slowing."
The report also focussed on the impact hybrid working has had on the traditional office market, and the continuation of flexible working from home by many businesses. This has resulted in growing demand for co-working space following the pandemic, with new facilities being set up across the county and proving popular.
The supply of office space across the county has also reduced due to its continuing conversion to residential, although the rate has slowed. With little new office space coming forward, rents have increased overall by seven percent during the last year. The average rent now stands at £18ft2, but closer to London this has reached £30ft2 in places.
With no offices being built speculatively in the county, there has been more refurbishment. Kent is still seeing good investment yields, with several deals at eight percent to over seven percent net initial yield, compared to the average of five and a quarter percent in the South East.
The residential property market has remained strong with analysis of Land Registry figures showing house prices in Kent have increased on average by 23.5 percent during the last five years, compared to 19.5 percent in both the South East and England and Wales. Some districts in East Kent have seen far higher increases – up to 46%.
New build house prices have increased too, but in some areas, by only a little. There is still substantial demand for housing, and housing land in many areas, and Kent continues to see large influxes of buyers from London, especially in north and west Kent.
Residential development has continued to be held back by the nutrient neutrality issue in the Stour catchment area, but this is starting to be resolved, potentially freeing up many stalled sites. Kent has also seen an increase in demand for later living accommodation with many leading developers bringing forward new sites.
The launch of the 2022 Kent Property Market Report was supported by Clear MPW, DHA Planning, Hollaway Studio, MHA Macintyre Hudson, Royal Institution of Chartered Surveyors (RICS) and Thomson Snell & Passmore. It was unveiled on 8 November to 230 industry guests at the Ashford International Hotel.
For further information on the latest performance of the county's property industry, visit: www.kentpropertymarket.com
Sign up for the latest news and updates from Locate in Kent