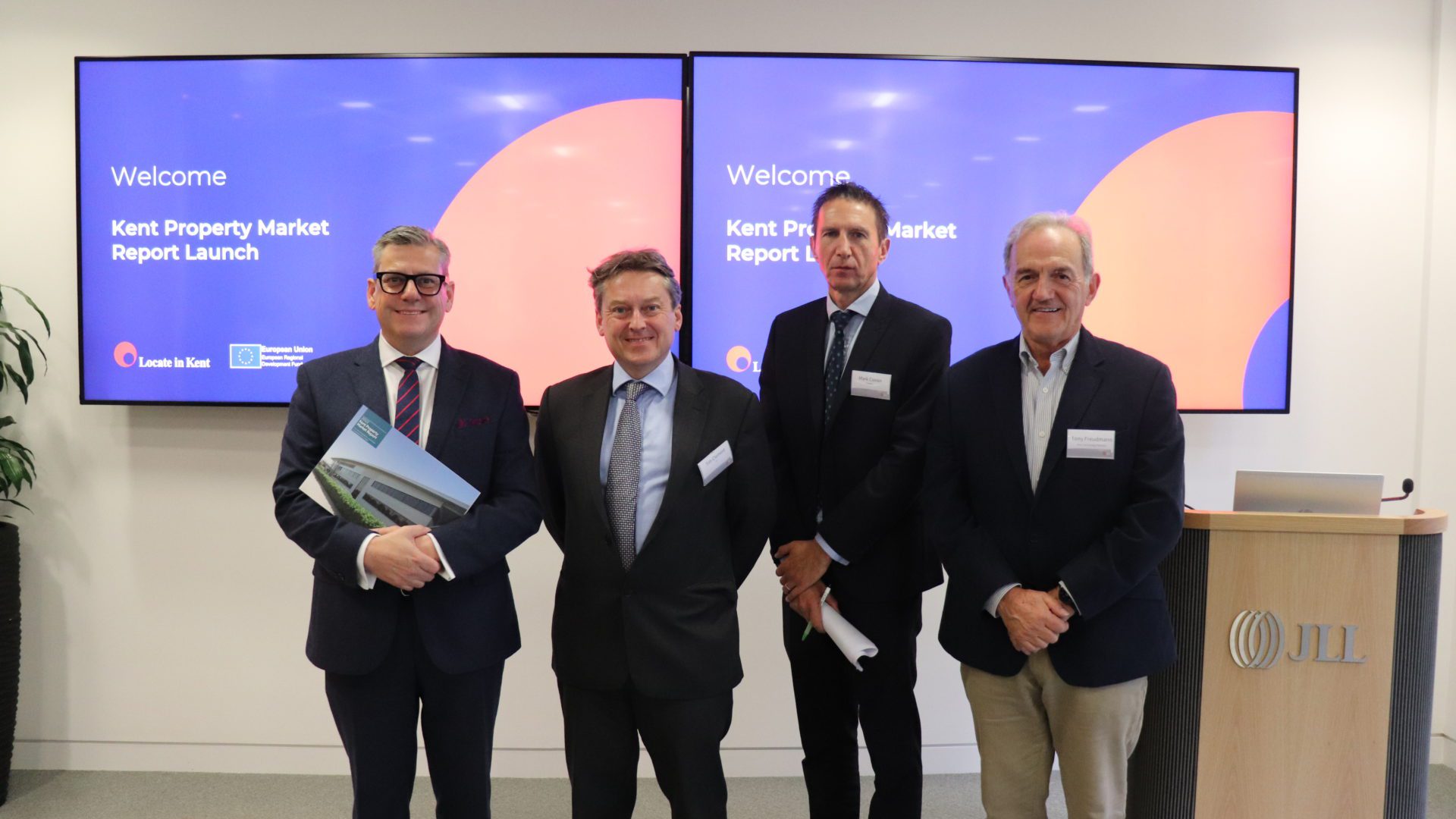 News
LONDON LAUNCH OF KENT & MEDWAY PROPERTY MARKET REPORT HIGHLIGHTS STRATEGIC OPPORTUNITIES FOR INVESTMENT IN THE REGION
Locate in Kent, JLL and Caxtons Property Consultants hosted a showcase for inward investment in the Kent and Medway region as the 2022 Kent and Medway Property Market Report received its London launch before an audience of investors and land agents in the capital.
The breakfast event held at the offices of JLL in Warwick St, London on Tuesday, November 15, brought delegates up to date on the latest edition of the annual report launched in Ashford, Kent last week.
Simon Ryan, Investment Director, Locate in Kent, said: "The 2022 Kent and Medway Property Market report illustrates once again the resilience and continued attraction of Kent as an investment location, and this event was the perfect opportunity to showcase the strength of that offer directly to a London audience.
"There is so much that links the economies of the capital region with Kent and across a number of key sectors – from creative and digital to logistics, food and drink to life science research. London companies are seeing the benefits of having all or part of their operations here in the county."
"This remains a time of great opportunity for those businesses with the big ideas; from those exploring new sustainable ways of construction to technological innovations that will help the UK transition to net zero.
"Kent and Medway is already home to many companies delivering on this promise – with more than 280 business investment projects supported in the region since 2019 – from logistics and distribution space to advanced manufacturing; vertical farming to hydrogen fuelled transport systems."
Highlights from the 31st edition of the report include a key finding that the industrial market, delivering logistics, distribution and warehousing property, is expected to continue to outperform the rest of the South East.
The 2022 Kent and Medway Property Market Report, produced by Caxtons Property Consultants, Kent County Council and Locate in Kent can be viewed in full at: www.kentpropertymarket.com
Several companies were highlighted by Locate in Kent as examples of investment secured in the region since 2020, and opportunities in the pipeline for future investment, including:
Amazon, Dartford – At 2,4 million sq. ft this vast logistics space is the largest and most sustainable distribution facility in Europe, delivering 1,000 jobs.
Brompton, Ashford – This internationally successful bicycle brand has submitted plans to relocate its global headquarters from London, supporting around 4,000 new jobs
Medway One, Chatham – Planning decision imminent on this new manufacturing hub that will feature a waste to power plant and a construction supply chain manufacturer.
Laser Light, Dover – This US laser and satellite company has chosen Kent over the space industry cluster in the East Midlands for its UK base, creating 80 new high-tech roles.
Oscar Acoustics – Planning has been approved for a spray acoustics factory in Halling Kent after outgrowing its SE London site with 50 new staff over the next two years.
International Freight Hub, Manston – Designated by the Government as a nationally significant transport infrastructure asset, these proposals have the potential to create the UK's only dedicated multi-modal freight distribution hub for time critical freight like medicines, food and flowers.
Sign up for the latest news and updates from Locate in Kent