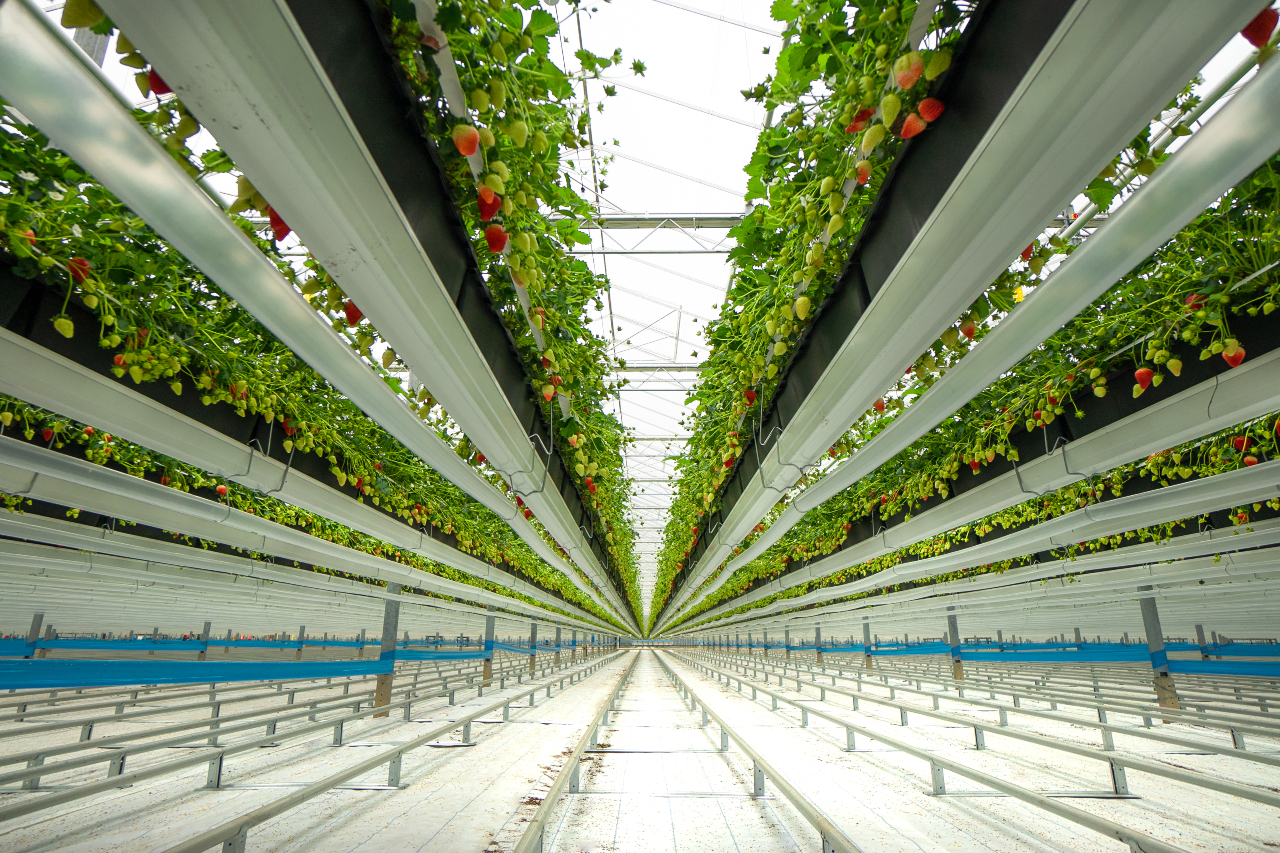 News
More Kent strawberries on the shelves than ever before
A Kent-bred strawberry variety has been chosen to be at the heart of a major investment in a state of the art glasshouse by inventor and entrepreneur Sir James Dyson's farming operation, Dyson Farming.
Malling CentenaryTM, an early season strawberry variety bred at NIAB EMR in East Malling, was selected to be the only one grown in a new 15-acre glasshouse in Carrington, Lincolnshire, by Dyson Farming as part of its commitment to highly efficient, sustainable farming.
Dyson Farming expects to grow 750 tonnes of Malling CentenaryTM strawberries each year for UK consumption. The first crop has been harvested, and delivered to M&S, Waitrose and Tesco, meaning that British grown strawberries can replace imported varieties and minimise food miles.
The strawberries are being grown in a giant 424m long state-of-the-art glasshouse, with 700,000 Malling CentenaryTM  strawberry plants laid out in 832 rows . Renewable electricity and heat to grow the crop was provided by Dyson Farming's adjacent anaerobic digester, which also powers the equivalent of more than 10,000 homes.
Professor Mario Caccamo, Managing Director of NIAB EMR, said: "Our breeding programme which created the Malling CentenaryTM variety epitomises the approach taken by Dyson Farming, using science and innovation to improve the horticultural industry's productivity and environmental performance."
Dyson Farming has adopted a circular approach to farming. In the case of strawberry production, energy crops are put through an anaerobic digester to produce gas which drives turbines to generate heat and power for the glasshouses. The residual digestate produced during the process is used to grow other crops.
Mario Caccamo, added: "Our work to develop new varieties of soft fruit, combined with techniques to reduce water consumption, and all backed-up by our team of truly world-class scientists, is at the heart of our national effort to deliver sustainable farming practices and high quality new crop varieties in partnership with the horticultural industry."
Dyson Farming has also been supported at its Lincolnshire farm by Kent-based Berry Gardens, a longstanding industry partner of NIAB EMR. Berry Gardens provided industry leading and specialist genetics, technical and marketing support services to help bring the first Dyson strawberries to market.
Senior management and scientists at NIAB EMR are leading the £30m Growing Kent & Medway project, funded by Government and commerce, and an initiative which is investing in research facilities and projects across the South-East to boost industry sustainability and profitability. It is helping to create many new jobs and supporting national investments such as those being made by Dyson Farming and others in the industry.
Sign up for the latest news and updates from Locate in Kent