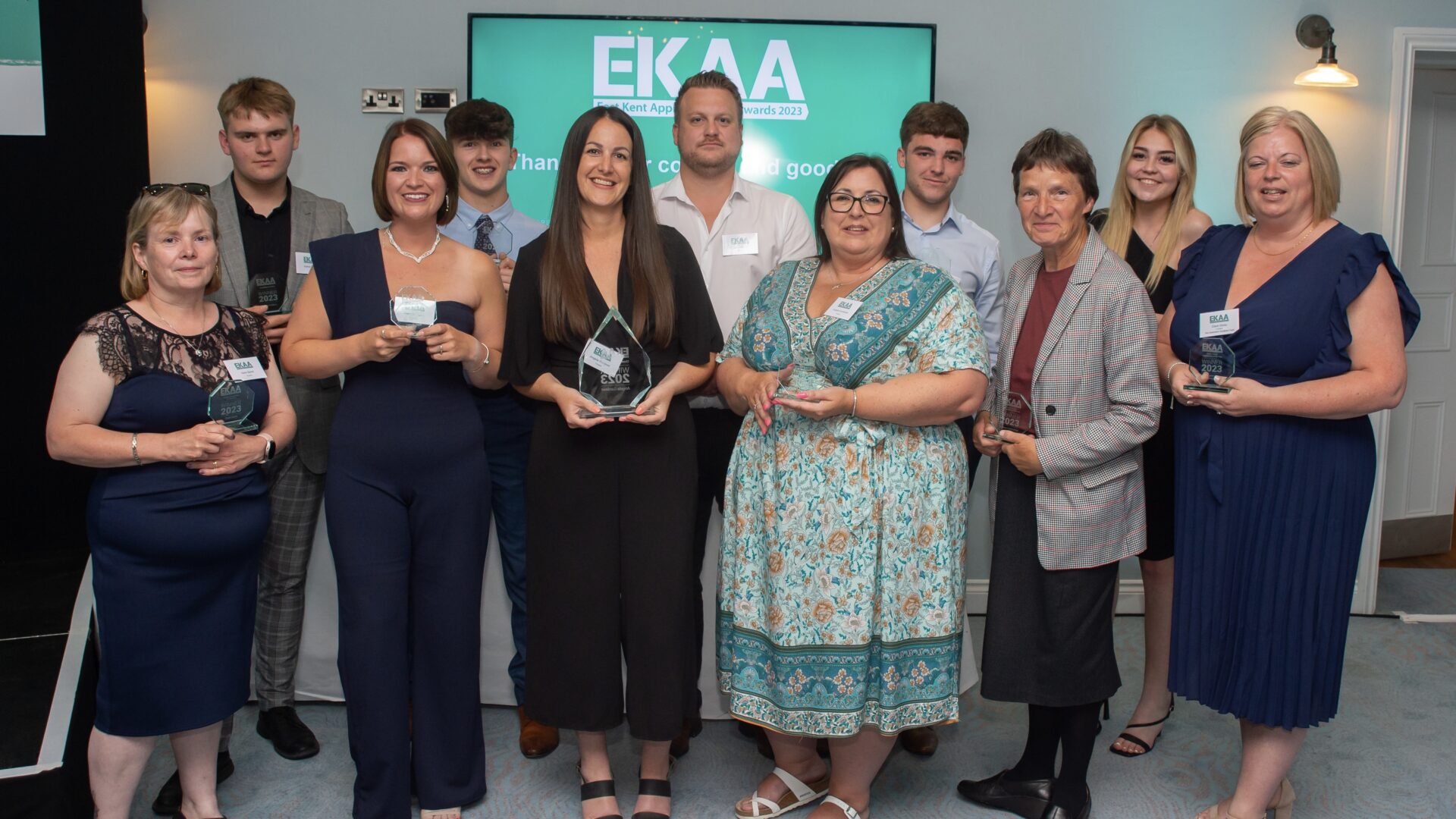 News
Winners announced at gala evening for East Kent Apprenticeship Awards 2023
The winners of the fifth East Kent Apprenticeship Awards 2023 have been revealed. The annual event, which culminated last night with a gala dinner at The Yarrow in Broadstairs celebrates people for whom vocational training has transformed their lives – as well as those employers who support them.
Organised by leading Kent marketing agency Pillory Barn, the Awards are open to all apprentices, businesses and public sector organisations across Ashford, Canterbury, Folkestone & Hythe, Dover, Swale and Thanet.
The event is sponsored by Chartway Group, Quinn Estates, Locate in Kent, Otterpool Park and EPS Logistics. From the nominations received since February, judges selected 26 finalists, all of whom were invited to the stage to receive a certificate to mark their achievement.
The names of the category winners were as follows. Each person, business or organisation was called to the stage to receive an individual EKAA award. Citations are included in Editor's Notes at the end of this release.
Business Management & Administration Apprentice of the Year – Angela Svendsen
Hospitality & Retail Apprentice of the Year – Aaron Foulkes
Construction Apprentice of the Year – Daniel Fox
Engineering Apprentice of the Year – Daniel Clark
Education & Early Years Apprentice of the Year – Danielle Yates
Creative and Digital Apprentice of the Year – Olly Julier
Hair & Beauty Apprentice of the Year – Summer Johnson
Private Sector business organisation of the Year – Tribeca Technology Group
Health & Social Care Apprentice of the Year – Sara Quint
Public sector organisation of the Year – The Canterbury Academy Trust
East Kent Apprenticeship Award Champion – Angela Gardiner
Paul Sayers, Chief Information and Strategy Officer at EKC Group, which hosted the event.  said: "Congratulations to all the finalists for their success in this year's East Kent Apprenticeship Awards.
"For the past five years this event has showcased the real difference apprenticeships can make, providing the inspiration we hope for others to follow, and the belief that they can do this too and achieve anything.
"I'm delighted that more and more young people both here in East Kent and across the region are benefitting from the invaluable job experience and life skills that apprenticeships bring. The stories heard tonight have certainly confirmed that.
"None of this would be possible without the support of the commercial and private sectors, and it's heartening to see how the importance organisations of all shapes and sizes are placing in apprenticeships has continued to go from strength to strength.
"Building those relationships is key to vocational training, to give young people, those returning to the workplace or choosing a new career path every opportunity to achieving those goals.
To find out more about the East Kent Apprenticeship Awards, visit the website on https://www.eka-awards.co.uk/ or follow EKAA on social media: Twitter, Facebook, Instagram and LinkedIn.
Sign up for the latest news and updates from Locate in Kent