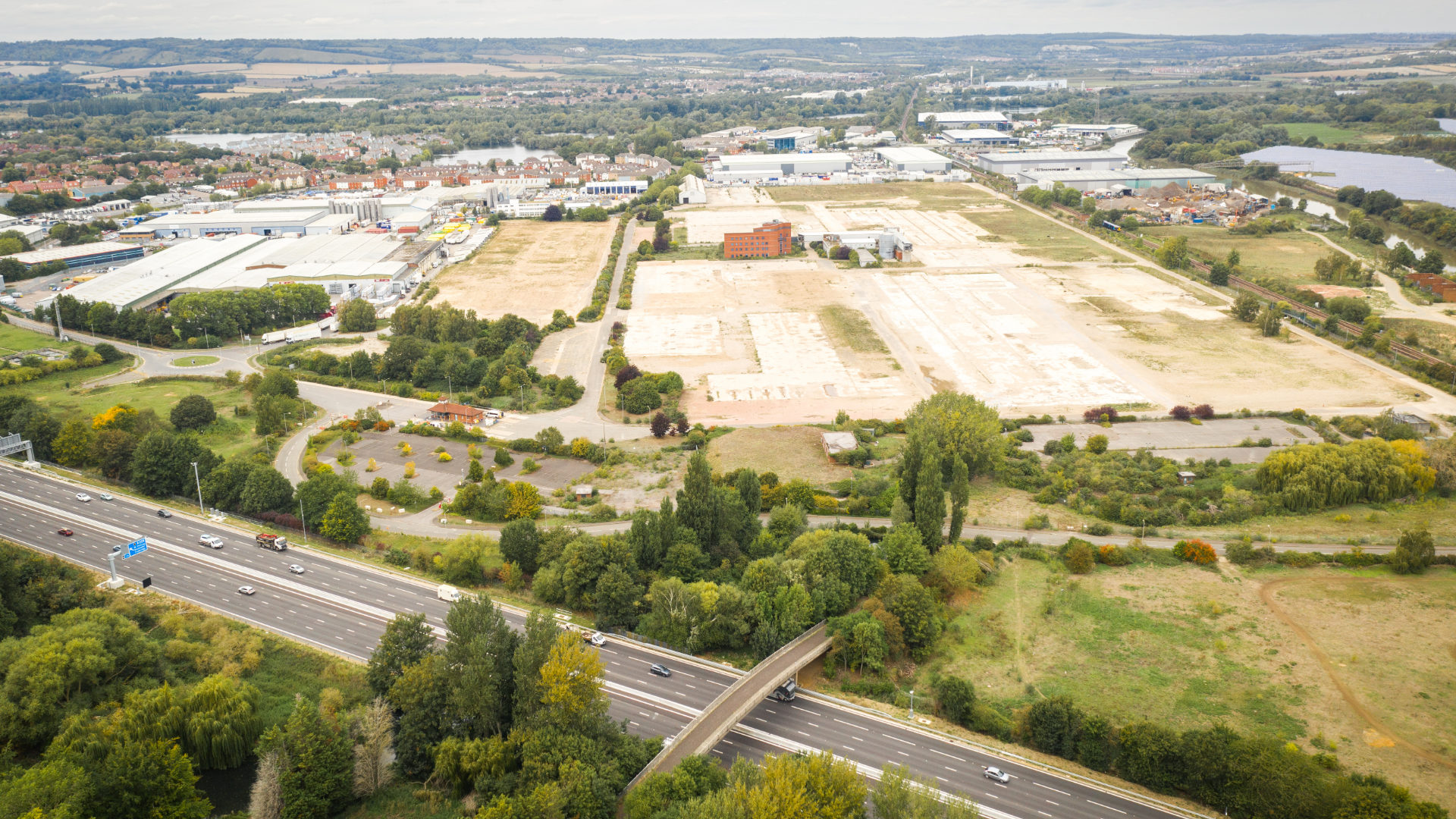 News
£180m redevelopment plans submitted for Aylesford Newsprint site
The prospect of more than 3,000 new jobs and significant local road improvements has moved an important step forward after the owners of the former Aylesford Newsprint site submitted a planning application for its redevelopment.
After consulting with the local community, Panattoni, Europe's largest privately-owned industrial developer, has finalised its plans which include investing in a £6 million new link road connecting Bellingham Way and Station Road to enhance the local transport network.
The proposed link road to be completed before the industrial units, will improve the distribution of traffic at junctions 4 and 5 of the M20 and deliver an overall reduction in congestion.
A weight limit will also ensure that all HGVs entering and exiting the Aylesford Newsprint site – to be renamed Panattoni Park Aylesford – will travel along Bellingham Way to Junction 4 via Leybourne Way.
It is proposed that Bellingham Way will become a public highway and be adopted by Kent County Council, a move supported by Tonbridge & Malling Borough Council.
To further improve the local transport network, Panattoni is working with bus operator Arriva, and proposing to invest in extending the existing route with Maidstone town centre via the site. A service, supported by Panattoni for five years until it becomes financially viable, will operate every 30 minutes, matching it with shift patterns and flexible working arrangements.
The team at Panattoni is also working closely with Tonbridge & Malling Borough Council and Kent County Council to ensure cycling to work at Panattoni Park is an attractive option. Electric bike stations are proposed subject to third-party agreement at Aylesford train station, the local superstore and Leybourne Lakes Country Park to help people get to and from work, and also promote wellbeing and fitness for staff.
The 90-acre brownfield site has been vacant since 2015 and the proposal is to invest £180m in the design and build of seven industrial buildings offering in the region of 177,000 sqm of new commercial floorspace, the new link road and landscaping.
Tony Watkins, Development Director at Panattoni, said: "When fully occupied in 2024 the site will deliver more than £162m per annum of economic value (Gross Value Added) to the Borough of Tonbridge & Malling, and Kent as a whole, by supporting 3,000 industrial, logistics, distribution and manufacturing jobs, and a further 2,560 indirect jobs.
"With one billion pounds of development projects across the UK we are working with many of the world's leading companies. We are confident that Panattoni Park will meet these companies' needs and also provide buildings to support the growth of local companies constrained by the lack of facilities."
The Covid-19 pandemic has changed the way that many large multinational companies are now looking to operate.
Tony Watkins added: "We have seen a dramatic increase in companies looking for buildings that can simultaneously support their online as well as physical high street presence. Our proposals, consistent with Tonbridge & Malling Borough Council's economic ambitions, come at the right time as the country considers how to restart, renew and build in economic resilience.
"We have consulted widely with the local community, writing to over 20,000 local homes asking residents to provide feedback. People could view the proposals online and our project website received over 10,000 views in just two weeks with over 150 residents providing comments on how best to improve the scheme.
"Our conversations with local stakeholders and organisations, such as Locate in Kent, have been positive. As a result we have refined our application including extending the bus route, improving offsite cycle and footpath connectivity, as well as protecting and enhancing the biodiversity following consultation."
Consistent with Panattoni's approach adopted at its other sites, the proposals include the use of Low or Zero Carbon technologies to reduce energy demand and associated CO2 emissions. The measures adopted – such as solar panels, air source heat pumps and LED lighting – will reduce energy consumption and associated CO2 emissions by at least 10 per cent.
Gavin Cleary, CEO at Locate in Kent, said: "It's fantastic news for Kent to see Panattoni's redevelopment plans for the Aylesford Newsprint site submitted. This shows a step in the right direction as many businesses in the county begin to rebuild and grow for the future.
"This project could make a significant impact in the region in terms of job creation and economic growth alongside travel and infrastructure enhancements. As we move forward for Kent, it is positive to see confidence in the region as an excellent investment and business location."
If the planning application is approved by Tonbridge & Malling Borough Council, it is hoped that construction will begin in 2021, with first occupation expected spring 2022 and completion of the development by 2024.
To find out more about the proposals visit www.PanattoniParkAylesford.co.uk or www.TMBC.gov.uk and search for application reference: 20/01820/OAEA. Residents without internet access can call 0207 592 9592 to request more information.
Sign up for the latest news and updates from Locate in Kent