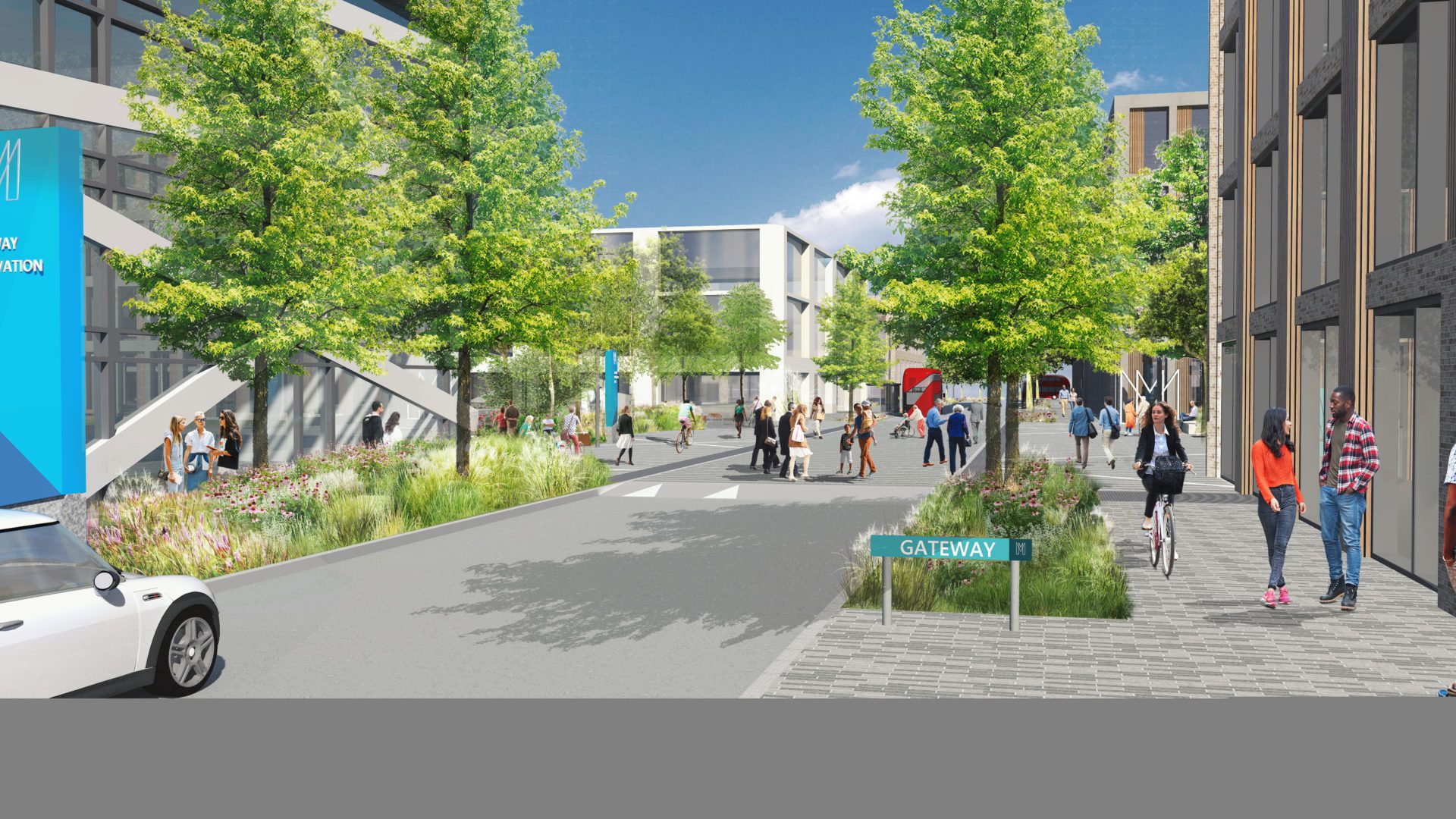 Increasing numbers of ambitious business owners are choosing to expand outside of London, taking advantage of lower rents and the opportunity of a better work/life balance within Kent and Medway. For some the move onto a business park has proved even more fruitful as they take advantage of some unexpected benefits.
For 100 years Hochiki has led the way in the design and manufacture of innovative life safety solutions. It's leading edge commercial and industrial fire detection and emergency lighting products are used across the globe.
Hochiki moved to their base at Gillingham Business Park in 1990. They were first drawn to the site due to their Japanese heritage and the local road named after Will Adams (Will Adams Way), a famous navigator who was the first Englishman to reach Japan in 1600.
Their Europe office base has now grown significantly to employ over 200 staff. Roland Bessey, Operations Director at Hochiki, shared with us why the business park works for them and what working within Medway has to offer.
"Being based on a business park within Medway has given us the opportunity to employ local people, who can enjoy the benefits of working for an international company just a short commute from home. Many of our staff live within a mile radius which offers a much-improved work life balance. The unit works well for our business with a mix of manufacturing and office space, plus close proximity to major road networks and local amenities means the park is easily accessible and has most services that you would need practically on your doorstep."
Being involved
More than 70,000 companies call Kent & Medway home, from some of the UK's best-known products to new tech start-ups, but some businesses get right to the heart of matter and provide vital services for those in need across the county. Involve Kent have their headquarters office at Turkey Mill in Maidstone. The charity provides a wide range of community based services in health and social care, working with local authorities and GP practices. They focus on improving wellbeing and helping frail, vulnerable, disabled and isolated people improve their health.
They have been at the park for just over 3 years and looked at many different options before deciding on Turkey Mill for their head office. Charlotte Osborn-Forde, Chief Executive, explains the thinking behind their decision. "We wanted to base ourselves in Maidstone because it is easily accessible from all over Kent but getting parked in Maidstone town centre can generally difficult" says Charlotte. "Turkey Mill is a great location with excellent transport links and the added bonus of having car parking spaces."
Creative Management
"Working on a business park offers some added benefits that we hadn't really anticipated" continues Charlotte. "We have great synergy with a number of our neighbours which has offered us opportunities we might not have got elsewhere. This is largely down to Dougie Lawson, co-owner and Director of Turkey Mill. He is switched on and really takes an interest in helping get the tenants together for the benefit of all. He's not only there for making sure the park runs smoothly – he takes an active approach in building a business community."
The park itself has meeting rooms available for hire and a café. This offers staff the chance to refuel and chill out away from their desks. It is also on the doorstep of Mote Park so has huge benefits for well-being. Plus it is just a short walk from the town centre.
"Since moving to our new office we have trebled in size" continues Charlotte. "Flexible space was important so the company could grow when needed. We've been able to take on additional office space on site. We have out-reach workers all over Kent so being able to host meetings and have hot-desking available is key for us. I've no doubt we have attracted top performing staff because Turkey Mill is a great environment. It's more village than business park and the staff and business thrive here – I can't see us ever moving".
Creating partnerships
Jonathan Reed, Managing Director of Amron Architectural has moved his business to a new park in Faversham.  As the growing company took on more projects it needed extra warehousing space and they had totally outgrown their old unit in Sittingbourne.
At around 5000 sq.ft., the new commercial space is bright and modern with a mezzanine office space, including kitchenette, breakout area and meeting room, as well as spacious warehousing with doors leading to the loading bay/car park.
"It offered us everything we needed and more" says Jon, "plus we're close by to some great country pubs for all those essential team meetings and a bit of bonding at the end of a busy day! The new unit has really improved staff morale and the team couldn't wait to get back to the office after lockdown. Working together in an innovative space gives us a buzz and helps with inspiration and creativity for sure." The company use metal mesh solutions to create eye catching and functional interior design for architects and interior designers. Their designs can be found in upmarket hotels and well-known bars and restaurants, as well as a host of commercial buildings and educational spaces.
One unexpected benefit gained from their new home is getting to know some of the other businesses on site. "We have great synergy and are similar in outlook and ambition" explains Jon. "It's meant we're all keen to help each other where we can and are already working on some exciting new projects together".
More than just a building
"It is no surprise how much the community can add to local businesses", says Simon Ryan, Investment Director at Locate in Kent. "We have so many diverse companies in the county, and they need an environment that suits their creative and vibrant energy. Several commercial and office locations are being developed across Kent and Medway to respond to these needs – all with a focus on being more than just a building. These new style developments are offering a physical place that creates the right environment for forward thinking companies.
One such opportunity is Innovation Park Medway, Chatham, which is now being marketed by Harrisons.
The ethos behind Innovation Park Medway (IPM) is all about creating a business community for those working in technology, precision engineering, manufacturing, and highly skilled support services. At its heart is Runway Park – an innovation in engineering and landscape architecture with atmospheric lighting creating an attractive and functional outdoor space for collaboration. IPM also has the potential to offer state-of-the-art meeting spaces and business facilities, creating a place where like-minded businesses can foster working relationships.
So now when you look for a new office or commercial space you'll need to consider more than just the building – but the environment in which it sits and the unexpected benefits your decision may bring.
For more information on IPM speak to our marketing agents.
Sign up for the latest news and updates from Locate in Kent