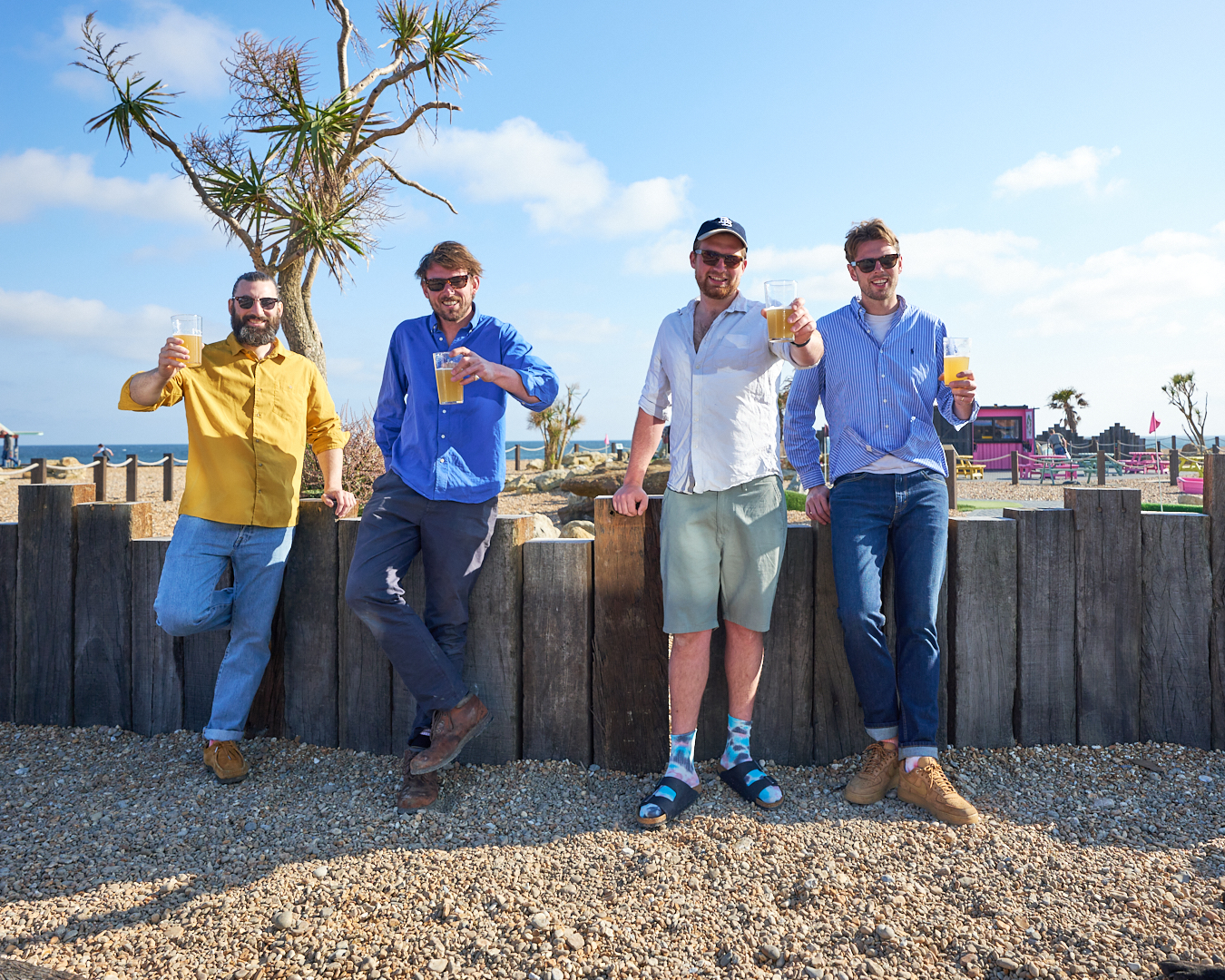 News
Brewing Brothers opens Folkestone Harbour's largest restaurant
Commercial confidence in Folkestone Harbour as a home for forward-thinking food and drink companies is riding high after Brewing Brothers opened the largest restaurant yet at the Kent visitor destination.
The new Brewing Brothers Beachside taproom, which is anchored by an impressive wood fired oven focused restaurant, has been brought to Folkestone by ambitious Hastings-based brewery Brewing Brothers. It becomes the largest single independent business to operate at the popular seaside destination.
Accessed from Platform 2 of the historic Folkestone Harbour railway station, Brewing Brothers Beachside is close to Putters!, the adventure golf course which opened last year.
Housed in seven extra-large shipping containers, it offers 208m2 of internal space to allow Brewing Brothers Beachside to open all year round. It also has an impressive 282m2 outdoor deck for alfresco dining overlooking the shingle beach and the English Channel. It is more than double the size of its neighbour, the immensely popular Little Rock; the Harbour's flagship seafood restaurant which became an instant hit after it opened in 2021.
This entirely new space is also the Folkestone Harbour & Seafront Development Company's largest investment in a single unit since first renovating and reopening Folkestone Harbour as a food, drink and experience focused visitor attraction in 2014.
Brewing Brothers Beachside is the fourth of six new restaurants to open at Folkestone Harbour this summer. Its position, sitting snug against the wall of the historic Folkestone Harbour Station, boasts uninterrupted views across Folkestone's Seafront and, being westerly facing, will offer views of the sunsets during long summer evenings.
Paulo Kingston-Correia, the General Manager of Folkestone Harbour & Seafront Development Company, said: "We're incredibly proud that what started as a tentative, pop-up street food experiment has now grown at such a pace that we feel we can open venues of this scale and watch them flourish.
"Our mission is to reinvent the English seaside experience and Brewing Brothers Beachside, with their unique space, impressive backstory and spectacular menu delivers that in buckets."
Last year Folkestone Harbour clocked up more than 2 million visits by local residents and visitors to the town. Its owners are currently consulting with the public on its plans for the redevelopment of the harbour and seafront which has outline planning permission for 1,000 new homes and 10,000m2 of commercial space.
Showcasing an impressive selection of their own beers, visitors will also be able to enjoy a revolving menu of inventive, hyper-seasonal dishes served straight from the searing hot, smoky environment of their traditional, Italian imported wood fired oven. As well as a fine selection of pizzas including G.O.A.T (with caramelised onions and goats cheese) and The Bomb (with salami, red onions, blue cheese and jalapenos), 'from the oven' menu guests can enjoy slow cooked lamb shoulder, charred Mediterranean vegetables and wood fired haddock.
Brewing Brothers said: "We are thrilled to announce the successful opening of our newest beachfront restaurant in Folkestone, where, over the past couple of weeks, we have been warmly welcomed by customers old and new.
"Their incredible response has exceeded our expectations, and we are now eagerly anticipating a rip-roaring summer at our beachside establishment. With our talented chefs, attentive staff, and a menu showcasing the finest local ingredients, we offer an unforgettable dining experience against the stunning backdrop of Folkestone's beautiful beach. Join us as we celebrate this exciting chapter and create unforgettable moments for our guests."
For more information on what Folkestone Harbour offers food and drink operators visit www.folkestoneharbourarm.co.uk
Sign up for the latest news and updates from Locate in Kent