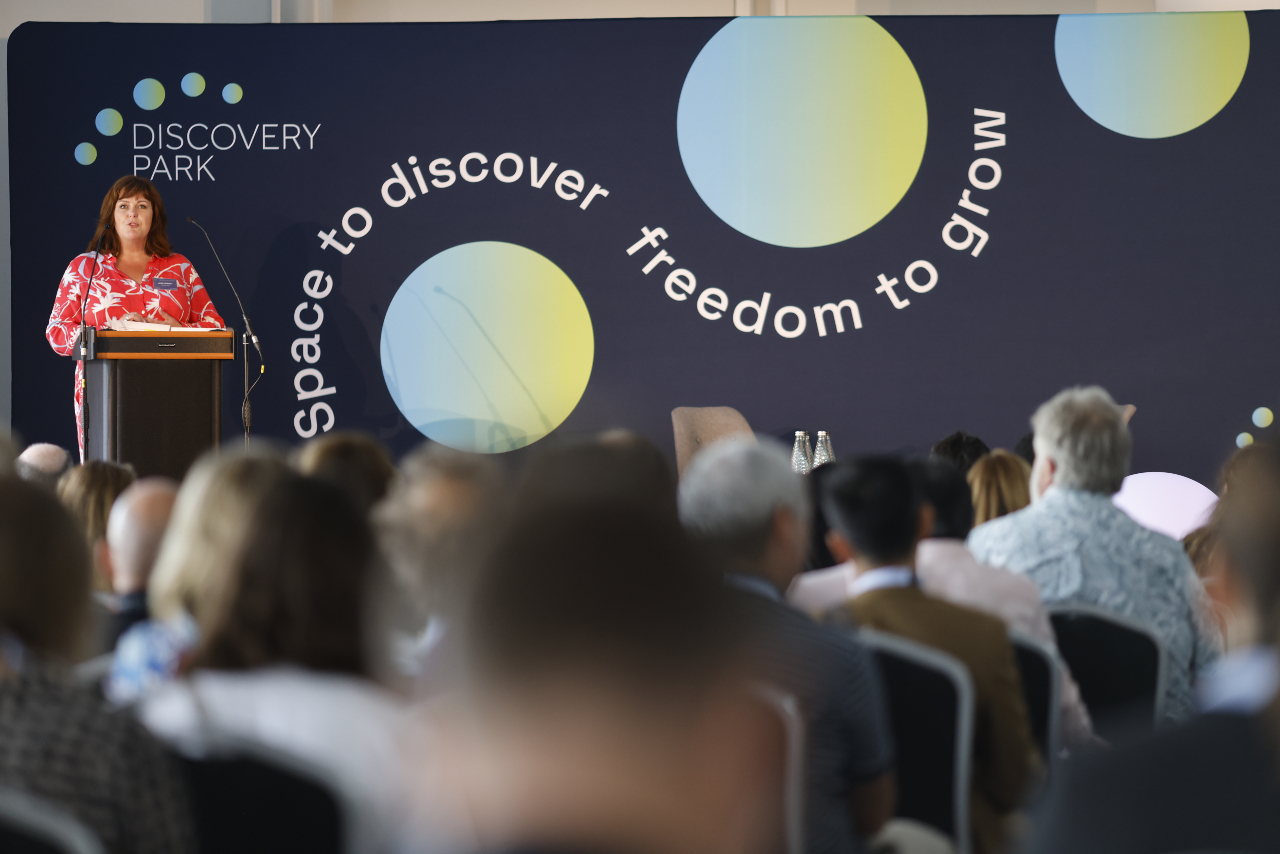 News
Innovation Summit celebrates decade of growth at Discovery Park
The UK's science minister has praised a decade of growth at Discovery Park, the leading science and innovation campus in Sandwich, Kent.
The ministerial vote of confidence coincided with the Innovation Summit, which attracted more than 300 industry professionals from across the UK, from science, technology, and engineering businesses, plus education, finance and government.
Minister of State at the new Department for Science, Innovation and Technology, George Freeman MP said: "The success of Discovery Park is the result of a strategic long-term public/private partnership between Government in London and Kent. It demonstrates the power of the UK's £94 billion life sciences sector in driving economic regeneration in clusters all around the UK.
"Having helped set up the Discovery Park Task Force and Life Science Opportunity Zones in the coalition government 10 years ago it is great to see how Discovery Park is now a world class incubator of new life science technologies and companies – as this Summit of 300 life science leaders shows."
Innovate UK, the national innovation agency, presented at the summit, highlighting support for UK companies with a total portfolio of £6 billion of public money. Its session included information on Government focus areas, including precision neuroscience and new agri-tech, plus opportunities for collaboration and grants accepting applications.
Mayer Schreiber, CEO of Discovery Park, added: "The success of Discovery Park has been built on creating the right environment to equip early-stage and scale-up businesses, combined with the Government's commitment to nurturing innovation and backing for the high-growth industries of today and tomorrow, to succeed.
"Our work has helped foster partnership, promote skills and unlock finance and business support. As a Life Sciences Opportunity Zone, Discovery Park is perfectly placed to nurture a culture of innovation. Life sciences and technology remain areas of priority for investment from the Government, so it's imperative we unite different industries and academia to share experiences and learnings."
The Innovation Summit highlighted how technology and AI is advancing exponentially and revolutionising industry.
Attendees toured Discovery Park's newly opened flexible lab complex which is designed for start-ups and growing companies. The new facilities come with a range of business support services, including an on-site Barclay's Eagle Lab and Discovery Park's own seed fund, Discovery Park Ventures.
The summit included a session focused on driving innovation through creative and breakthrough thinking, hosted by David J Hall​, Founder and CEO of the Ideas Centre Group. Experts covered the use of AI and big data, ensuring intellectual property is aligned to a company's growth and continuing to be innovative. Two panel discussions also took place, covering the digital future of healthcare and food systems.
Steven Roberts, Chief Scientific Advisor at Barclays, gave a keynote speech on addressing challenges in the corporate landscape using innovation. Other key speakers and panellists included representatives from Pfizer, GrowUp Farms, Digital Catapult, Cancer Research Horizons and sponsor, Abel + Imray, the trademark and patent attorney.
Sign up for the latest news and updates from Locate in Kent