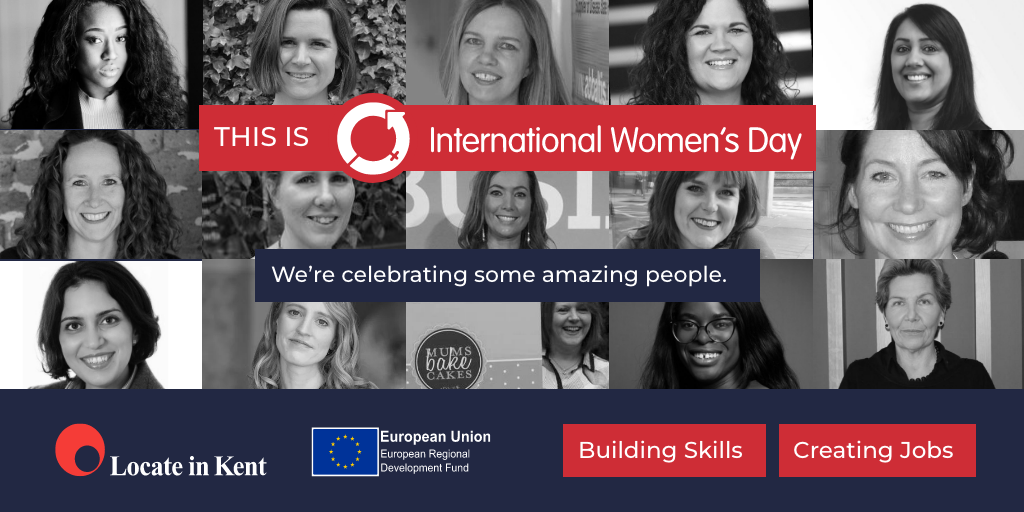 News
International Women's Day – Kent entrepreneurs, businesses and organisations showing the way
When it comes to being a woman in business things are so much better than they were with more opportunities than ever in the UK and signs, at boardroom level at least, of the glass ceiling being well and truly broken. Women led SMEs contribute some £85 billion to economic output nationwide, but it could be so much more with Beis research showing that only 16% of small business employers and one in three of entrepreneurs are women. While 37.7% of directorships in FTSE100 companies are now held by women, only eight women are CEOs.
Across the UK, traditional barriers to promotion, starting or growing a business such as the cost of childcare and juggling work and family life remain. Around one third of women also say access to funding is the biggest barrier to starting a business, compared to 20% of men (Rose Review of Female Entrepreneurship, HM Treasury 2019).  While there is extensive access to financial support in Kent, successful scale up grant, equity or loan applications from female run applicants like Nim's Crisps are still the exception.
Things however are changing buoyed by the explosion in e-commerce and the flexibility of the 9-5 accelerated by the pandemic, and the growing influence in Kent of female entrepreneurs and business people in key sectors, leading the way, innovating, trailblazing, showing this and future generations the opportunities that are within reach, regardless of gender.
Across Kent, businesses and organisations with women at the helm or in prominent positions within their organisations are on the rise.  In science people like Jane Kennedy, Chief Business Officer at Discovery Park and Giedre Brandao, Managing Director at AbBaltis; in manufacturing, sector champions like Catherine Barratt, director of BAMUK Group with ambitions to build a leading, global manufacturing and products led group of businesses. Contracts Engineering and Furnitubes International are just the start.
This International Women's Day, Locate in Kent caught up with some other inspiring female Kent business leaders for a glimpse of the challenges they are facing in 2022 – not all are gender related – from ambitious start-ups and established family businesses embarking on their next chapter of success to innovators and educators.
Lauren Hampshire, Owner/Founder The Milky Tee Company, Sittingbourne
I started The Milky Tee Company when my daughter was a baby and my eldest was in pre-school, so juggling a business and being a mum was certainly a challenge! Even now that both my children are in school it can still be hard to juggle everything. Running your own business can be very overwhelming as there is so much to think about, marketing, accounts, manufacturing etc. The best way I have found to help deal with everything is to be organised, to try to have set working hours, to have a set area for business, whether an office or even a desk in your bedroom, get a diary, try to plan your days and write to-do lists to help you know what you need to focus on each day.
As an entrepreneur you can often feel that you have to do everything yourself but that as the saying goes "no man is an island" and we all need help and support. That may be through taking on staff, using contractors, hiring freelancers or getting support from business or government agencies. I started off doing everything on my own and I nearly burnt out so now I have a fulfilment manager, social media manager and marketing assistant. I also work with a production manager, a marketing agency and a business coach so I feel like I have a team of people who help to make up my business and help to give me advice and support.
Advice or knowledge that I would have liked to have had before starting in business:
My best advice would be to say, "you do not have to do everything on your own". Ask for support when you need it, delegate tasks, use experts who have knowledge in areas you may not and let others help you out, whether that may be in a business sense or even with childcare.
If you are thinking of starting a business, it may be a good idea to start it with someone, maybe a friend or a partner, but someone you trust and someone who can help take on the burden so not everything is on your shoulders.
Best resources, support and networks for female founders and entrepreneurs in Kent:
Over the last few years, I have realised just how much support there is available for entrepreneurs, especially here in Kent. A great resource is the Kent and Medway Growth Hub. Through them I found out about the Business Terrace in Maidstone, where I went at the beginning of my business journey and got help with creating a business plan, setting up as a limited company, getting a start-up loan and was given help to find a patent lawyer to protect my design. I have also had help from Locate in Kent who have helped me grow my business through working on a business and marketing strategy. I have had funding through the Manufacturing Growth Fund and am working with The Department of International Trade, who have local advisors, to help with growing my brand internationally.
There are also Facebook group and networking groups for entrepreneurs in Kent and ones specially geared towards Women in business so it's great to join those and meet other like-minded people.
Although starting a business can be daunting, there is lots of help, advice and support out there and honestly if I can do it then anyone can!
Beccy Dickson, Chief Operating Officer, Concept Foundry, Knockholt
"We started in a bedroom in a small-terraced house in Bromley after the birth of my second child in 2011. initially farming out print, before moving to a larger property and investing in print production machinery to work out of a converted garage.  As the work got more and more interesting and larger format, we were bursting at the seams. Luckily an opportunity came to invest with family into a larger property.
And that is where we are today. We couldn't have done it without the support of family, blood, sweat and tears.
Facing the pandemic was our biggest challenge to date. We diversified very quickly and set up a printed mask company. Despite the fear of the pandemic this was such an exciting time for me personally. A small foray into the fashion industry! I was the main creative director along with my business partner Macey and my assistant Stacey designing the masks and we had a lot of fun, often working into the early hours getting out new designs, doing modelling shoots, press releases and marketing campaigns – also working with a few celebrities. I must admit I found a new passion in this angle of the business, and it certainly kept the wolves from the door.
During a very scary period for most businesses, we managed to pull through despite furloughing our staff, and make it to the other side. Dare I say it, we are still here and still trading despite all the challenges of the last few years.
COVID apart, childcare remains the main challenge I face as a business owner. Despite the alleged change of society's attitude regarding the gender of the primary caregiver, I don't believe it is possible to ever switch off 'mum mode'. I am, of course, a mother first and foremost and no one can ever fill that gap.
Running a business at the same time is hugely challenging but now we have the capability to work flexibly with the technology available, that has become somewhat easier, I don't believe my male colleagues have to disappear at 2.45pm every day to be 'mum' again.  This undoubtably reduces my capacity to be consistently present and there are always missed opportunities. Meetings that have to be cancelled because of sick days, holidays and pandemics are just a few of the hurdles a mum in business faces.  The key to managing that successfully, I have found, is delegation and I am lucky enough to have a female assistant – who of course faces the same challenges with childcare that I do. However, between us we manage and good communication and delegation with the rest of the team seems to have kept the wheels in motion.
I sometimes feel that as a woman it is hard to be heard. Assertiveness is something I have struggled with my whole career.  Again, despite the changing attitude of gender stereotypes, men do typically take the lead. I'm lucky enough to have fantastic staff – mostly male I might add – who have made it easy to lead them in a feminine and empathic way, rather than a typically competitive and dominant style that some of my male counterparts may take. Luckily this style suits us and we all work really well together. I have developed my managerial skills based on my wonderful staff and have learnt so much from them.
When starting out 10 years ago, I had no idea how much cash flow would impact my company. As a print production agency, we have high overheads and the standard 30-day payment terms that clients expect can be crippling, quite often going past terms and taking more time and money to chase.  It sometimes feels like a never-ending vicious circle. Luckily, by learning quickly on the job we have avoided too many problems. But more through hard experience than planning."
Advice or knowledge that I would have liked to have had before starting in business:
Have a very definite business plan with an emphasis on cash flow.
Use support offered by organisations like Locate in Kent. On a personal and business level their support has been wonderful. I'm looking forward to training with them.
Seek out a support network. I'm also lucky enough to have made fantastic acquaintances through my school mum network. Multi-tasking business and childcare to my advantage.
Best resources, support and networks for female founders and entrepreneurs in Kent:
I have used a networking group called Westerham B2B Online. This was interesting to hear about other local companies and how they were managing during the pandemic.
Beckenham BNI is another online networking group that I've used.  We met Nancy one of our artists on this group who is contributing to our Confounded Art project amongst others useful contacts.
I also use Sevenoaks Woman's Forum, Oxted Women's Network and Businesswomen in Kent for advertising, advice and marketing surveys.
Clare Holton, Vineyard Manager, Brissenden Vineyard, Maidstone
"I run the vineyard with my dad, who should have retired by now, but is immensely supportive and hard working.  In addition to this I have an awesome army of school mums (and some dads) who have a fantastic array of skills that they give me the benefit of.  I employ two of these ladies on a part time – term time only – basis and another two volunteer regularly for me.  We all have different skills and strengths so whoever is the more expert takes the lead on any given task.  When we need more (wo)man-power, we put the word out, and local families come to help us.  These are mostly friends or connections from three of our local schools (the one my children go to and the ones my volunteers' children go to), but we also have friends and family from further afield who come when they can, and the Brissenden Team grows each year.
I have found the wine industry to be a very friendly one, and fellow vineyard owners, winemakers, and professionals associated with all aspects of the grapes and wine are always happy to take time to help you out.  I have also been very lucky to have had Locate in Kent (suggested by a local female entrepreneur friend, who is another school mum!) and Visit Kent provide me with structured help to tackle specific projects.  Plus, some specific marketing and design assistance by yet more entrepreneurial ladies who were setting up their own business and keen to work together.  Through another school mum friend, I was able to update my website by using students at Canterbury Christ Church University on a scheme they run, which was fantastic.
Overall, I have to say I have felt very supported, by everyone (certainly not just women) but I have managed to tap into the very impressive resource of mums, who are highly skilled, but have not necessarily been able to go back to their pre-children career, due to the usual factors such as flexibility around childcare etc. "
Advice or knowledge that I would have liked to have had before starting in business:
You're not alone in this. Tap into the support that's out there.
Turn barriers that women can face into an opportunity.
Give back to your community.
Brady Last, Managing Director, EY Incentives Ltd, Ashford
"The biggest challenge for many sectors at the moment is recruitment. It's certainly a candidate driven market locally and maintaining our profile as a great place to work is key to hiring the best talent.  Knowing when to delegate, and outsource recruitment where necessary, is essential to overcoming this particular challenge. I personally find it hard to delegate, but I am getting better! From a personal career perspective, being a part of a start-up in a conservatory and taking a huge risk to do that as a single mother was the biggest challenge I've faced in my lifetime.  Being able to get through our acquisition during 'work from home if you can' was probably second! It was an incredible achievement to be able to say the company had been sold to EY."
Advice or knowledge that I would have liked to have had before starting in business:
It's not only ok to make mistakes, but also an essential part of business and personal growth. If you get everything right, are you even pushing yourself to go further?
Always hire the best person you can afford, at any level in the business.  Don't mistake your gut feeling for telling you to hold back – it could just be nerves at doing something new.
Know what direction you want to take the business in. If you want to sell the business, you need to be prepared! Preparing for acquisition takes a lot of time… and data.
Kelly Collier, Founder Argo Life and Legacy, Maidstone
"I have enlisted the support of a business coach to help me look objectively and unemotionally at my business so that I can plan sensibly for the future.  As well as being a female business owner I am also a lawyer but not a solicitor.  I am the new breed of lawyer, a fellow of the Chartered Institute of Legal Executives.  This brings challenges as the public do not really know we exist.
Running a small business when you are competing against large law firms is hard particularly when you are establishing yourself, so you have to think out of the box. It also causes problems with the banks, the courts and other organisations we deal with.  For some reason I have always ended up being a pioneer for different things I do so challenges are my thing!  My family and team are a huge support.  What I do affects them, so we talk all the time.  Communication is key.
Advice or knowledge that I would have liked to have had before starting in business:
You will never feel as if you are making enough progress or that things are going quickly enough.
The pressure to succeed is enormous.  As much as you can set you sights on world domination it takes a lot to get there.
It is important to stick to your plan and take those little steps as it is surprising the results you will get.
Dr Anne Nortcliffe, Founding Head of School of Engineering, Technology and Design, Canterbury Christ Church University
"Most inventions, from safety design on cars to biological drug research, is focused on men despite 51% of the world's population being female. For women working in STEM industries, female innovators and entrepreneurs, it can at times feel like an uphill struggle to get heard above male peers.
However, one of our reasons to develop and open the new School of Engineering, Technology and Design at Canterbury Christ Church University was to address the gender divide within STEM and encourage more women to take-up careers in this amazing industry. In some respect starting the school was like starting a business from scratch. I learnt to stand firm and trust my instinct and judgement. "
Best resources, support and networks for female founders and entrepreneurs in Kent:
Here at Canterbury Christ Church University we host  to help provide a local network for people, and Industrial Advisory Board. I would also recommend the Kent Guild associations, and the Women's Engineering Society.
Whatever your gender, Locate in Kent are here to help if you need support locating or growing your business in the county, including our Future Forward business support programme. Click here to get in touch.
Sign up for the latest news and updates from Locate in Kent