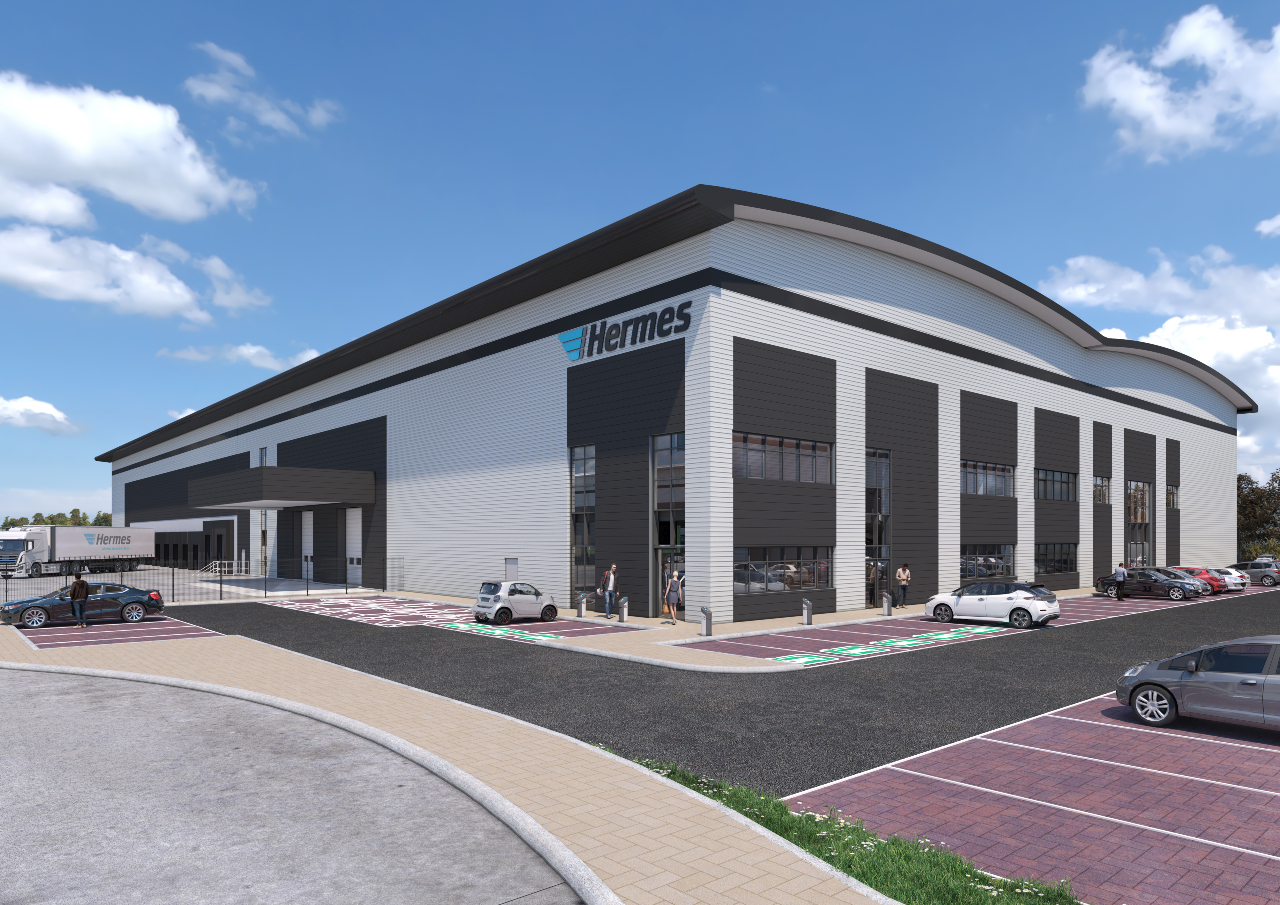 News
Panattoni secures third pre-let deals at Panattoni Park Aylesford
Panattoni Park Aylesford has signed the third pre-lease agreement at its sustainable modern logistics development in Kent.
Hermes, the UK's biggest dedicated parcel delivery company, will become the third occupier, and create 150 new jobs.
The company has signed a 15-year lease for a 78,794 sq ft facility, which will be a net carbon zero development. When the building is operational later this year it will increase Hermes' network capacity and fulfil its growth in the area.
The new facility, being developed by Panattoni, the largest industrial real estate developer in Europe, will be able to handle more than 220,000 parcels each day, more than double as many as its previous site in the area, with the ability to operate 24/7 if required. The building will operate 28 dock doors, six level access doors and a 64m yard.
The deal forms part of the ongoing investment programme by Hermes UK to expand its capacity to meet the huge demand created by people shopping at home during the pandemic and the continuing growth in the sector.
Panattoni welcomes Hermes sustainable commitment at the park, the new facility will benefit from EV charging, as Hermes now has 30% electric vehicle ParcelShop fleet, as well as smart lighting, rainwater harvesting, low carbon heating and solar panels. The unit will be built to a BREEAM rating of 'Excellent' and EPC A+.
Alex Mitchell, Development Associate at Panattoni, said: "It is great to work with Hermes again and assist with its nationwide expansion. This is our third letting at the Park to a leading logistics company and justified our confidence in the location and ability to provide a sustainable platform for occupiers. We look forward to seeing the new Hermes unit taking shape as work has now commenced."
This will be Hermes' third bespoke facility in the UK developed by Panattoni in the last two years, with the second at Panattoni Park Bolton, which Hermes took occupation of in September to support its UK expansion plans.
Deborah Faithfull, Estates Manager at Hermes added: "It was a pleasure working with Panattoni again to deliver a bespoke facility for Hermes which will facilitate the growth of the business as demand has continued to increase during the pandemic.
"The sustainability initiatives are key to Hermes' environmental, social and governance (ESG) strategy. We are also delighted to be bringing additional jobs to the area and this new depot will continue to help us process and deliver a record number of parcels for all our clients and customers."
Agents at Panattoni Park Aylesford are CBRE, Avison Young and JLL. Hermes was represented by Lambert Smith Hampton.
Sign up for the latest news and updates from Locate in Kent