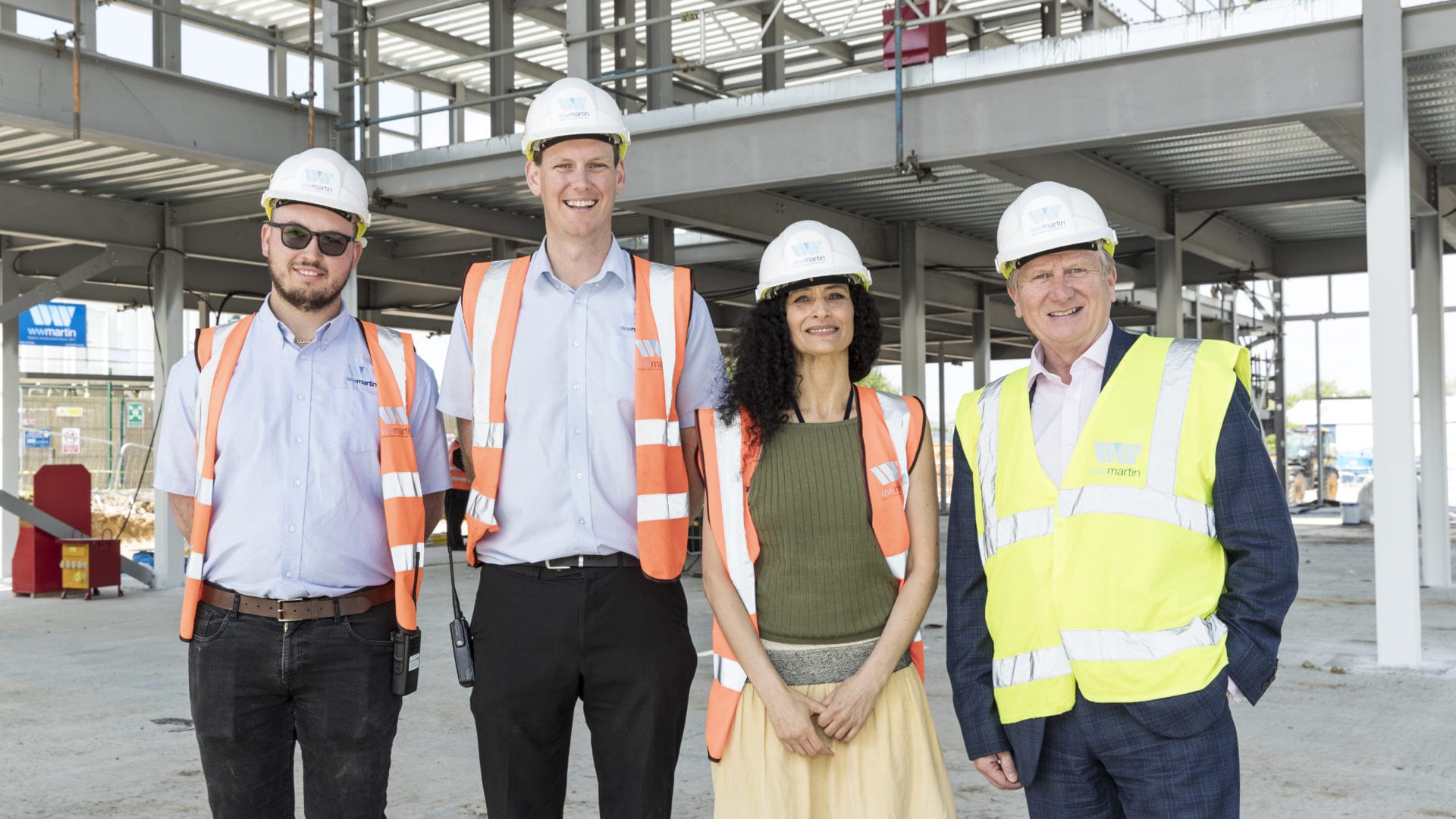 News
Major milestone reached for Jasmin Vardimon Company's new creative hub
One of Kent's largest cultural infrastructure projects has achieved a major milestone in the development process. Jasmin Vardimon Company's new and much anticipated creative hub takes shape, promising a state-of-the-art facility for the internationally renowned dance
company to expand its activities locally, nationally and on the global stage.
On 3rd June, Councillors from Kent County Council and Ashford Borough Council joined representatives from Arts Council England, the construction partners WW Martin, Jasmin Vardimon and her team to mark the topping out of the new building in Javelin Way, Ashford.
Construction work on the 13,530sq ft site started in January and rapid progress has been made with the building's structural skeleton now complete. The building will include space for the creation of the company's touring productions and rehearsals, dedicated studios to
accommodate the rapid growth of the company's acclaimed educational programmes and community classes, plus incubator space for small creative businesses. The primary creation space will also be available to hire by external creative companies, offering 19m x 22m studio space with 8 metres grid height, fully sprung dance floor and full lighting, sound and AV rig. A new café and meeting rooms will also be available providing flexible spaces for the local community to get together. Any enquiries regarding external hire from Autumn 2022 can be directed to info@jasminvardimon.com.
In anticipation of the opening of the new premises in late Spring 2022, Jasmin Vardimon Company has set up two studios at the McArthurGlen Designer Outlet Ashford, enabled by Kent County Council. The rehearsal and office spaces, along with a temporary performance space at the Outlet, have resulted in a highly productive partnership between McArthurGlen and Jasmin Vardimon Company, providing the local community with a taster of what lies in store next year. In May, Kent residents, including year groups from Ashford's Towers School, visited a new free immersive performance choreographed by Jasmin Vardimon and performed by her JV2 company within two unused units at the Designer Outlet. It was the first cultural event many of the audience had experienced since lockdown and many local
people have been inspired to engage further with the company as it begins to relaunch its programme of public classes at their studios. The company continues to build strong relationships with about 60 schools and colleges in Kent and to connect with creative and community organisations across the region alongside collaboration and investment from businesses.
The building will form the centre of a major new arts hub in Ashford, with a number of light industrial units formed over 47,163 sq ft for sale and/or lease to attract both creative businesses as well as the general market, within the new cultural quarter.
The light industrial units will also seek to support the growth of small and medium-sized enterprises in the post-pandemic world by providing opportunities for business development in the creative sector, as well as income from business rates.
The new facility is being built in partnership with Kent County Council and the scheme is piloting an innovative and unique approach by using the value of the industrial units as an enabling development to provide investment into a new cultural building. In order to deliver the facility, capital investment has been secured from Arts Council England, the Cultural Recovery Fund's Capital Kickstart Fund, Ashford Borough Council (ABC) from the Business Rates Retention Pilot (a fund which aims to support housing and commercial growth in the
borough) and the South East Local Enterprise Partnership's Getting Building Fund.
The Jasmin Vardimon project is one of Ashford Borough Council's 'Big 8' projects, which are significant projects which will benefit the borough in terms of economic development and inward investment. The other projects include: Ashford College, Designer Outlet expansion,
Elwick Place, Commercial Quarter, J10a, Chilmington Green, Ashford International signaling. https://www.ashford.gov.uk/your-council/council-projects/the-big-8/
Suzie Leighton, Chair of the Board of Directors Jasmin Vardimon Company
"We are tremendously excited about the opportunity that this building offers to centre ourselves as a key resource for the community. Culture and creativity are proven to play an important role in the development of good physical and mental health, and culture led
regeneration is a crucial part of rebuilding vibrant and well used spaces within our towns and cities. As we emerge from lockdown, the company is really looking forward to collaborating with local people and businesses to tackle some of the issues within Kent and
Ashford that Covid has made even more acute."
Peter Heslip, Director Visual Arts at Arts Council England
"It's fantastic to see Jasmin Vardimon Dance Company's new space take shape. This project, supported by a significant investment of National Lottery funding through Arts Council England, will bring amazing new state-of-the-art facilities to Ashford for the whole
community to enjoy when it opens next year. The new rehearsal and studio space will mean young and old can discover the joy of dancing. Jasmin's innovative dance theatre is internationally-renowned, and I can't wait to see what they do in their new home."
Mike Hill, Kent County Council's Cabinet Member for Community and Regulatory Services
"I am delighted to see this exciting project come closer to fruition. The reputation of the Jasmin Vardimon Company is acknowledged both nationally and internationally and Kent County Council is proud to have been a long-time supporter.
Jasmin and her company have been based in Ashford for several years and have played a vital role in raising the county's creative and cultural profile. This high-quality facility will help to raise that profile even further and we look forward to seeing its completion."
Cllr Gerry Clarkson, Executive Leader of Ashford Borough Council:
"The Jasmin Vardimon Company is one of Britain's flagship international dance and theatre companies, and we are delighted they chose Ashford as the location for their dance studio. This creative hub will play its part in adding to the borough's rich tapestry of heritage,
culture and artistry.
By providing more space for the Jasmin Vardimon Company, they can expand their international offer and they will be able to share their inspiring work with local audiences. We look forward to them being able to showcase their art of dance and choreography here in the heart of Ashford and ensure the local community can see and take part in their inspiring work."
Christian Brodie, Chair of the South East LEP
"It is fantastic to see this take shape – we know how much hard work is going into building this facility, from all parties involved and South East LEP is delighted to see this significant milestone reached. At SELEP we understand the role that arts and cultural activities play in
bonding and building a community as well as being a catalyst for other economic activity and investment.
This creative hub is so exciting as it offers an excellent combination of supporting the growth of an important existing business, providing community facilities, and space for new creative small businesses of the future."
Sign up for the latest news and updates from Locate in Kent