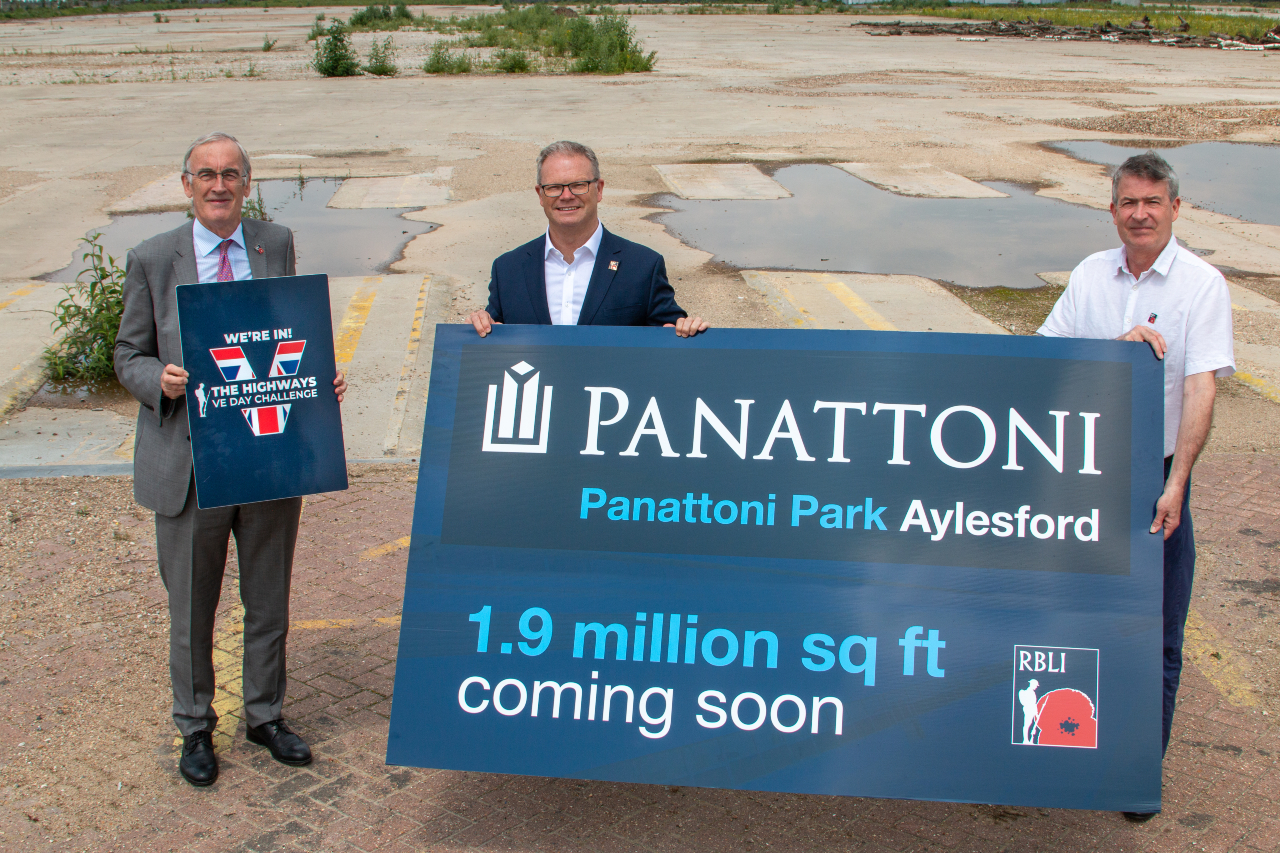 News
RBLI signs up Panattoni for its challenge
Panattoni, the world's largest privately owned industrial developer, has signed up to the Royal British Legion Industries' (RBLI) VE Day Highways Challenge.
As part of its £180m investment at Panattoni Park Aylesford in Kent, the company has commissioned RBLI's social enterprise Britain's Bravest Manufacturing Company (BBMC) to produce the site hoardings needed during the construction phase, as well as all the road and building signage.
BBMC employs more than 100 people – 70% of whom are veterans and people with disabilities. The team produce wooden products, such as pallets and fruit bins, as well as rail and road signs – including the majority placed around Kent.
RBLI's Highways Challenge, which was launched in line with May's anniversary of VE Day, aims to generate an extra £1 million of sales by Remembrance Day 2021, with the profits making it provide more employment opportunities to vulnerable veterans in need of work.
Panattoni's purchasing decision is part of its commitment to source local products and services wherever possible to support the delivery of its recently approved plans to develop 1.9 million ft2 of logistics and distribution space next to the M20.
Tony Watkins, Development Director at Panattoni, said: "This is one of those occasions when we have been able to source high quality, competitively priced products and at the same time use a local business that's doing important work supporting our veterans with employment, training and accommodation."
Following an introduction by Tonbridge & Malling Borough Council, Panattoni shared its signage strategy for the 90-acre site with BBMC's signage team based at the RBLI Village in Aylesford and agreed a programme of works.
Commenting on the deal with RBLI, Councillor Nicolas Heslop, Leader of Tonbridge & Malling Borough Council, added: "Panattoni is living up to its promise to purchase locally. It's great to see them partner with Britain's Bravest Manufacturing Company, and at the same time make progress on creating 3,000 new jobs for the borough on a site that's been vacant for far too long."
Steve Sherry CMG OBE, Chief Executive of RBLI, said: "We are delighted to partner with Panattoni and look forward to see how Europe's largest warehousing and logistics developers transforms the site over the next couple of years providing much needed economic regeneration in the area.
"Every sign and hoarding we produce will help transform the day to day lives of the people that work at Britain's Bravest Manufacturing Company and the rest of the veterans we support."
The commitment from Panattoni sees the property developer join National Rail, road maintenance companies such as Amey, as well as residential and commercial developers and local authorities on BBMC's customer list.
For further information on the work of BBMC visit: www.britainsbravestmanufacturing.org.uk and for Panattoni Park Aylesford visit: www.panattoni.co.uk/aylesford.
Sign up for the latest news and updates from Locate in Kent