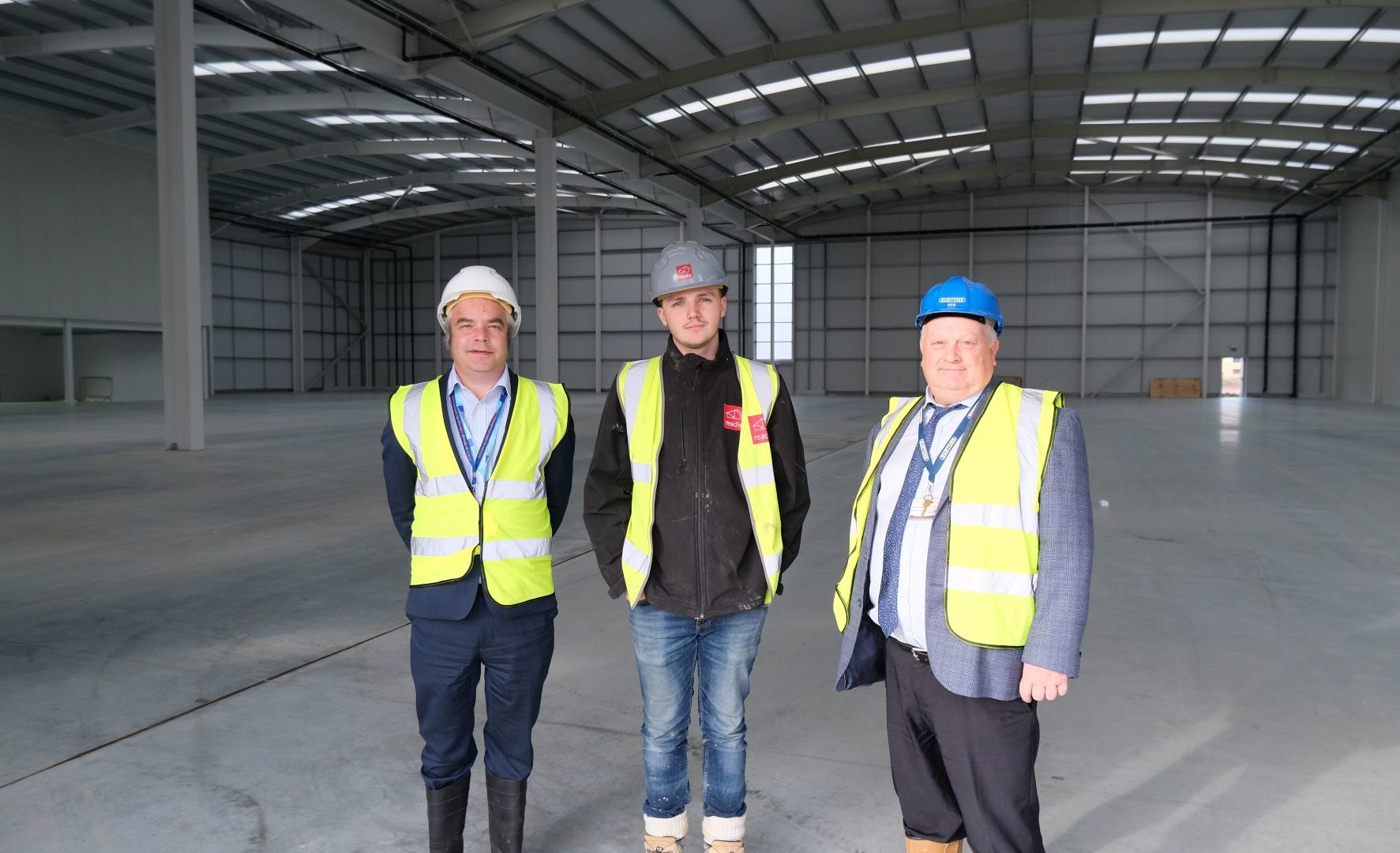 News
LOC8 open for business and almost full
The LOC8 industrial park just off junction 8 of the M20 is receiving strong interest from the market with the first occupiers poised to move in.
Leader of Maidstone Borough Council David Burton visited the site to see how it is progressing, he said: "Right from the outset I have been very enthusiastic about bringing this great new business park to Maidstone. It is in a perfect location, so close to the M20 which will avoid the need for HGV's to pass through the town centre and rural routes.
"Maidstone is a Borough that is open for business, so by creating areas like this we can encourage more businesses into the area. LOC8 is not only providing many logistics, engineering and manufacturing job opportunities but office-based roles too.
"I am really pleased at the sustainability of the new units, they are well insulated, highly energy efficient, using the latest technologies to minimise material, energy and water use, and reduce CO2 emissions. It will have extensive planting and several protected areas for nature to thrive, helping to increase biodiversity and creating an extensive ecology zone for staff and businesses. It really is an impressive commercial park."
The LOC8 industrial park covers a huge site with most of its units already exchanged or under offer and will provide jobs in logistics and industrial sectors, as well as a high number of office-based roles, thus bringing together a range of different fields and expertise while offering sustainable methods and tools for working.
David continues: "Maidstone is the Business Capital of Kent and we aim to continue to grow our local economy with high employment, good local jobs and thriving local businesses, just like LOC8."
David attended the ground breaking of LOC8 in February, along with all partners working on the project including, Locate in Kent, developers Clearbell and joint agents CBRE and Caxtons along with Maidstone Borough Council.
The £47m new mixed use business park is on the Ashford Road at Junction 8 off the M20. The site is suitable for both small and medium sized businesses, with room for more than 1,000 employees.
LOC8 is designed to protect nature and enhance sustainability and the landscaped setting will have extensive planting of native woodland and new ponds.
With excellent road and public transport links, LOC8 is well placed to service Europe's largest consumer market, London and the South East, with nearly 21 million consumers within 3 hours' HGV drive time. With the Thames and Channel ports, plus the Eurotunnel, close by, global markets a short leap away.
The spaces at LOC8 have been designed not only for functionality and durability, but to look good too. Units provide industrial spaces from 5,4365 – 36,404 sq ft, logistics space 40,289 – 106,240 sq ft and office spaces 11,840 – 17,179 sq ft.
LOC8 has been made possible through its allocation in the Maidstone Borough Council Local Plan and supported in the Council's Economic Development Strategy. LOC8 is located at a sensitive location within the setting of the Kent Downs AONB and so the challenge has been to minimise the landscape impact whilst ensuring a high-quality development suitable for modern business needs, which has been achieved through the planning process.
Sign up for the latest news and updates from Locate in Kent