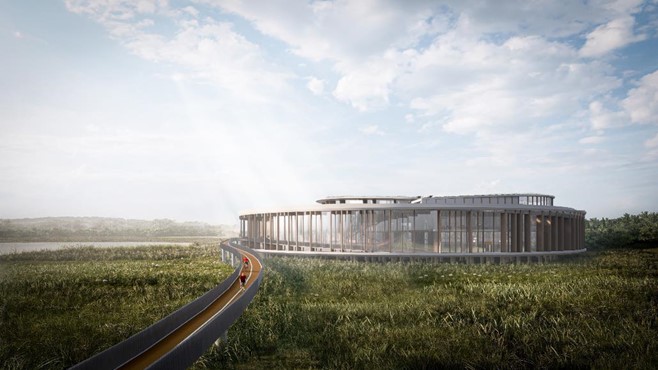 News
LOCATE IN KENT JOINS EKC GROUP AND CANTERBURY CHRIST CHURCH UNIVERSITY IN WELCOMING BROMPTON BICYCLE FACTORY PLANS SUBMISSION
Proposals for a revolutionary new bicycle making factory by one of the world's best known consumer brands has the potential to be a 'game changer' for engineering in Ashford and the broader Kent and Medway region of the UK, significantly boosting skills development opportunities for future job creation.
Brompton announced in February this year its intention to locate their global headquarters and manufacturing facility on a 100-acre site, close to the Ashford Designer Outlet Centre and Ashford International railway station 38 minutes from London St Pancras. The plans by the UK's largest bicycle manufacturer would represent a GVA uplift of around £290 million for the local area once operational, employing over 2,500 staff and the potential to support over 2,400 jobs indirectly.
Locate in Kent has worked with Brompton and local authority partners on finding the right location in Kent to meet their ambitions but also in highlighting alongside EKC Group and Canterbury Christ Church University ways the company can contribute to skills development in the region, including apprenticeships, on-the-job training and establishing relationships with local colleges.
Brompton's proposals, designed by award winning architect Guy Hollaway, have now taken a major step forward with the submission of a planning application to Ashford Borough Council. A period of public consultation is now underway.  These plans, which include a 190,000 sq. ft e-bike smart factory to be built in the first phase, can be viewed on the planning portal of the Ashford Borough Council website (Planning application reference PA/2022/2772).
They include a pledge to build skills and new high quality job opportunities in the county including engineering and manufacturing, research and product development, purchasing, sales and logistics.  A significant jobs boost is also expected over the eight-year construction phase.
Susie Warran-Smith CBE, Chair, Locate in Kent, said: "We're delighted to see these fantastic proposals reach their first major milestone with the submission of a planning application to Ashford Borough Council.
"There are many reasons why this project should be welcomed, not least in demonstrating how Kent's high tech, sustainable and skilled workforce is playing an essential role in growing the economy of this well-connected part of the UK.
"This new factory will be a game changer for Kent and Medway, a catalyst for further inward investment attracted by the presence of this high-profile international brand and the skills that will built here for generations to come."
Dr Anne Nortcliffe, Founding Head of School of Engineering, Technology and Design at Canterbury Christ Church University, said: "Canterbury Christ Church University is delighted that Brompton has chosen Ashford as a location to expand their operations and build an ambitious and versatile site with sustainability at the heart of its operation.
"Their vision echoes our own net zero commitments, and the innovative and exciting plans will support the growth and development of the region's economy, as well as bring many positive benefits to our local communities.
"The University is looking forward to collaborating with Brompton on a number of initiatives to drive innovation and to help develop the next generations of diverse manufacturing and engineering talent."
Graham Razey, Chief Executive Officer at EKC Group, said: "We're incredibly pleased to be working in close collaboration with Brompton to ensure they have the skills they need to grow and flourish in the Ashford borough.
"We pride ourselves on linking our provision closely with local employer need, so it is wonderful to be able to partner with such an exciting and growth-oriented company. As part of our work to deliver the skills they need, we are currently building Ashford Phase 2, which will house an expanded engineering provision to ensure we have the capacity to create their future workforce from within the community that we serve."
Sign up for the latest news and updates from Locate in Kent