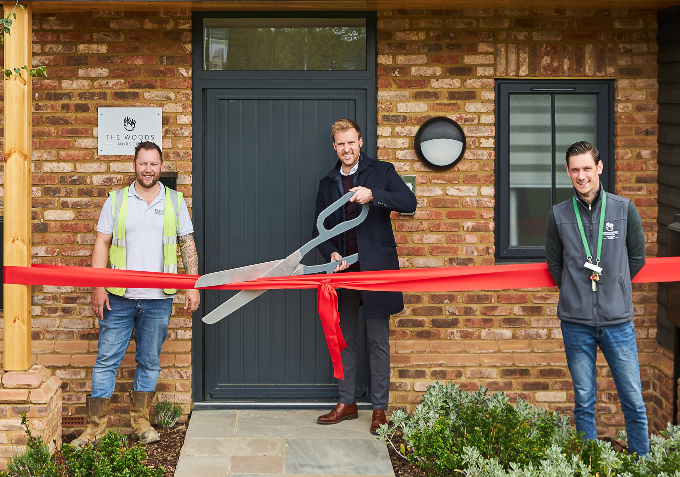 News
Offices welcome Medway businesses
The opening of new office space at Cliffe Woods marks an important milestone for the local community and the Medway economy.
New offices, totalling 5,500ft2 of space in a barn-style building, have been occupied by local companies, including The Woods Nursery, which is owned and managed by the Montessori Group, offers more than 50 places to children aged between six months and five years.
To mark the opening, the team from award-winning Esquire Developments, the Longfield-based company behind Cliffe Woods, was joined by the owners of The Woods Nursery to officially cut the ribbon.
David Braddon, Director of Esquire Developments, said: "Cliffe Woods is delivering on the promises made when we announced our plans for this site. We are pleased to help the community meet its demand for local nursery places for young families, as well as high-quality new offices and homes for Medway.
"It was a pleasure to attend the opening and be a part of the start of the educational journey of the nursery's first intake."
The nursery provides flexible care for the families it works with to support their work-life balance.
Sam Groombridge, Managing Director of the Montessori Group, said: "A chance meeting with the directors at Esquire has led to The Woods Nursery, which will provide high-quality child-led care that blends an academic focus with play in an amazing new nursery.
"The nursery enables our eight staff, including qualified carers and early years teachers, to offer affordable, yet premium quality childcare, which includes extra-curricula sessions of sports, drama, dance and even language learning.
"We are confident the success of The Woods will lead to further collaborations with the team at Esquire as they continue to develop high-quality housing developments throughout Kent and Medway."
The nursery has two dedicated outdoor play areas with gardens for children to learn against the backdrop of the existing woodland.
One of the offices has been occupied by Hall & Costello Wealth Management, a senior practice partner of St James's. The other occupier is Classicus Estates, a privately-owned property development and promotion company operating across Kent and South London, which recently acquired the former Rootes motor dealership site in the heart of Maidstone for residential development.
Commenting on his company's new offices, Matthew Brett-Chaponnel of Classicus Estates, said: "Having worked from my home office for 14 years, the opportunity to move into a new high-quality office on my doorstep was too good to miss.
"Across Kent there is a lack of small offices and Cliffe Woods is perfect for ambitious businesses like mine."
The 94 new homes, designed for Esquire Developments by Canterbury-based Clague Architects, have all been sold after securing unanimous planning permission from Medway Council in 2019.
For information about Esquire Developments visit: www.esquiredevelopments.com
Sign up for the latest news and updates from Locate in Kent