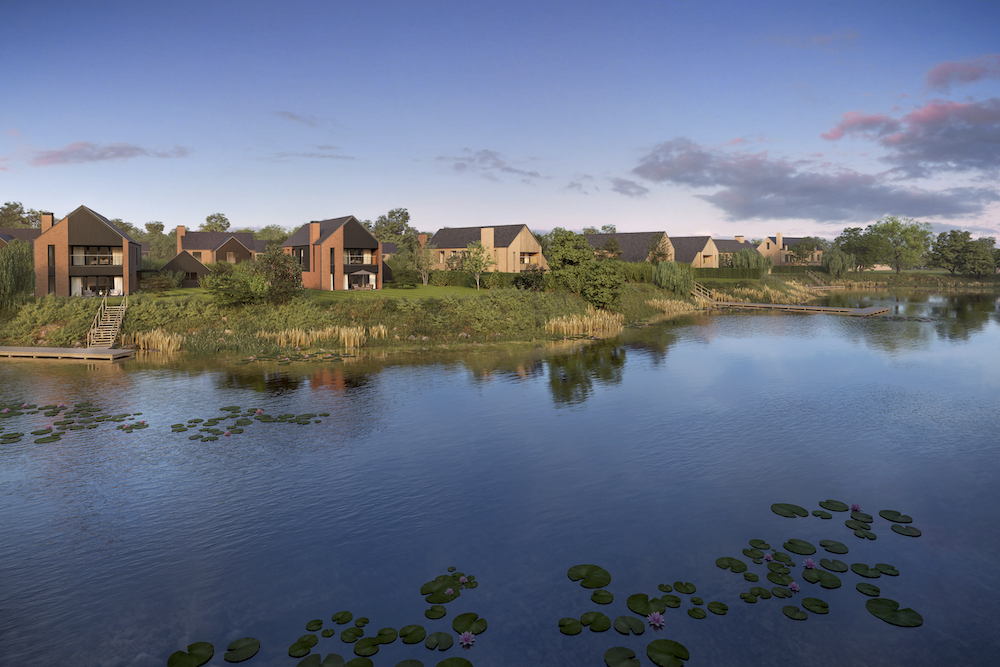 News
Official launch of prestigious Pluckley lakeside development – Otium Lake
On Friday 18 August, Hibau Group were delighted to host the Worshipful Mayor of Ashford Borough Council, Councillor Larry Krause to officially open the prestigious Otium Lake, a development of 31 bespoke homes set in a wonderful lakeside setting in Pluckley, Kent.
The celebration concluded with the unveiling of a plaque to mark the completion of phase three of the development with Hibau announcing that almost all the properties had sold, with only two luxury homes remaining.
Speeches were given by Martin Wood, Managing Director at Hibau, and The Worshipful the Mayor of Ashford, Councillor Larry Krause, who then cut the ribbon to officially open the development. Guests were then given tours of the stunning lakeside homes, followed by a BBQ and live music.
Martin Wood, Managing Director at Hibau, said: "We are absolutely thrilled to have reached this stage in the project where Otium Lake can be enjoyed by all the residents. It really has been a pleasure to create such a beautiful development and see the community grow. We are extremely proud of the finished homes and this launch is a celebration of what the whole team and our partners have achieved. We're now urgently looking for the next stunning location to continue to create Hibau's next vision."
Otium Lake is a special place and offers a unique opportunity that the guests were able to experience during the launch event. Owners of these homes will be surrounded by a private 20 acre estate comprising of parkland and woodland areas, as well as a private lake. The Hibau Group vision was translated into the design by Hollaway Studio.
Hollaway Studios have blended the traditional with the contemporary at Otium Lake. All homes feature large windows and bi-folding or sliding rear doors to maximise natural light and connect internal and external spaces together. In addition, the impact on the environment has been considered throughout, with all homes featuring electric car charging points, sustainable drainage and secure bike storage. No two homes are the same. Buyers were given the unique opportunity to personalise their homes and six of the plots were sold to buyers to custom build their own homes.
Guy Hollaway, Principle Partner at Holloway Studios, added: "It is always exciting to work on briefs like Otium Lake, where the location and land that buildings are being built on are rare, beautiful and naturally inspiring. Creating 31 bespoke homes that blend natural materials, invite the outside in and are tailored to each of their owners has been a wonderful opportunity. We are very proud of this project and it is great to be here today to see the development being celebrated, and the homes being enjoyed."
It is no surprise that most of the homes have now sold, with only two properties remaining. The development is already being enjoyed by residents, with one commenting: "We moved into number 5 The Gatehouse last May and have been extremely happy with Hibau. The quality of our home is second to none."
Sign up for the latest news and updates from Locate in Kent