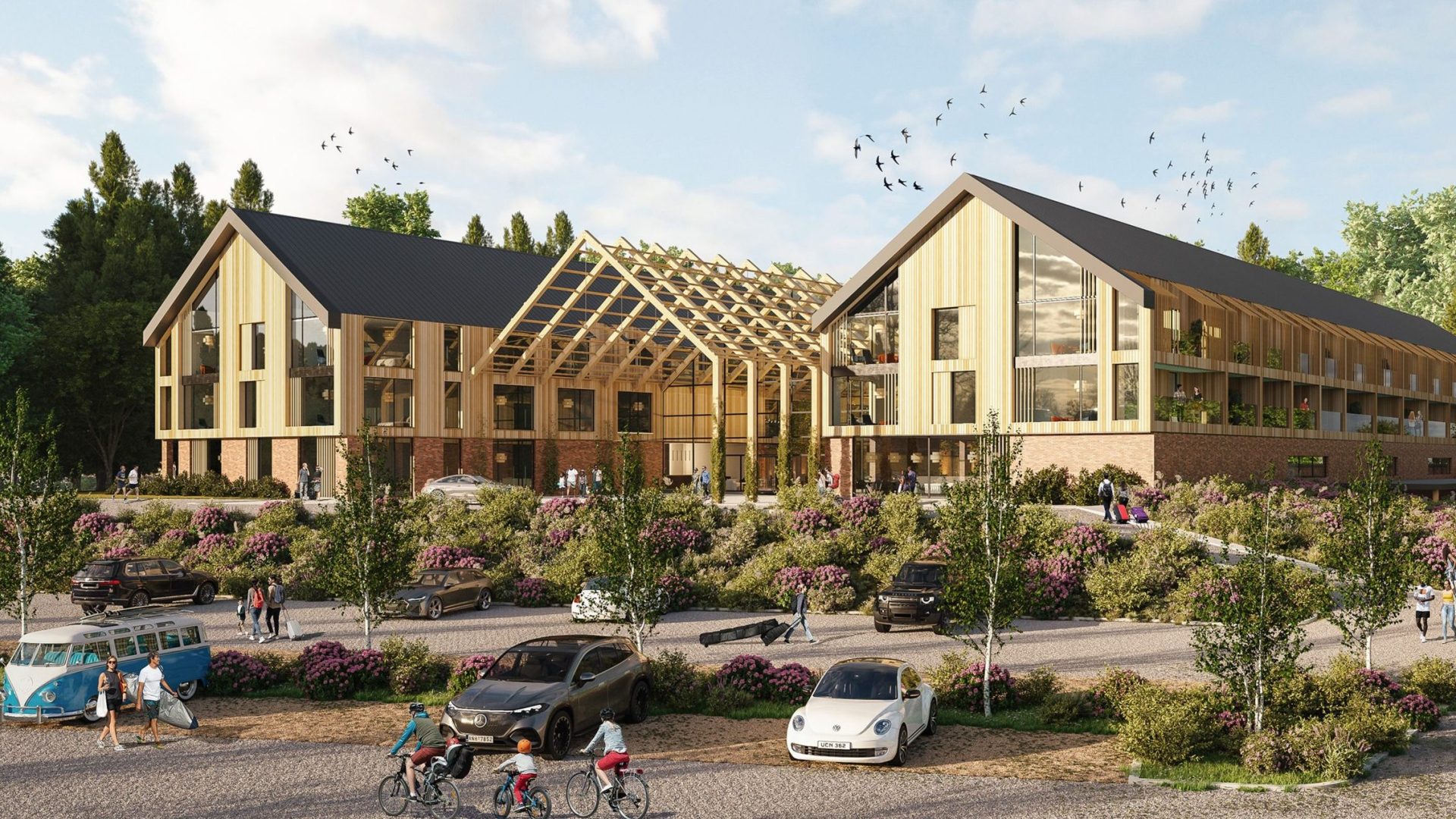 News
Planning application resubmitted for proposed hotel and spa at Betteshanger Country Park
Betteshanger Country Park has resubmitted plans for a new hotel and spa in Deal, Kent.
The revised planning application responds to concerns about the ecological impact on local wildlife and habitats, as well as loss of open space for the community, highlighted by Dover District Council's planning committee in July 2023.
At that meeting, members decided against granting planning permission despite the planning officer's recommendation for approval.
The hotel and spa will take up only 3% of the park and will help to give the park and all its wildlife a safe and financially sustainable future. Management of the park is causing its owners a loss of over £1,000 per day, so it is vital that solid revenue streams are found to keep the park open and protect nature.
Addressing the concerns for protected species, 9.1 acres of new land will be added to the park, specifically creating new habitat for Turtle Doves, along with a further 15 acres of off-site land at Hammill Fields as mitigation for the hotel, spa and surfing lagoon. A dedicated wildlife warden will also be responsible for overseeing the management and protection of wildlife at Betteshanger Country Park.
Ben Geering, a spokesperson for Betteshanger Country Park, said: "In order to make Betteshanger Country Park economically sustainable and remain publicly accessible, we have identified the hotel, spa and surfing lagoon as suitable revenue streams. They will not only enhance the experiential tourism offering in East Kent and attract visitors to provide a much-needed boost to the local economy, but it will also ensure the park can invest in ecological and natural conservation in the long term, something which has been lacking in the past.
"We have outlined how we will address environmental concerns with significant mitigation measures in our latest planning application. Over 20% of the park will be managed specifically for ecology without public access, as well as further compensation areas offsite larger than the proposed development area of six acres."
Dover District Council has identified a lack of high-quality hotels as a key barrier to growth in tourism and the local economy. The park is ideally located for the area's world class golf tourism offer and exploring the coastline at Deal. It also taps into demand for experiential tourism including other activities at the park, including mountain biking, road cycling, orienteering and nature exploration.
These activities also go hand-in-hand with the proposed surf wellness destination called The Seahive, which will be adjacent to the hotel and spa. This separate planning application encompasses a world-class surfing facility anchored around health and wellbeing. Its aim is to bring communities together and empower people to push boundaries in a safe environment whilst acting as an educational centre of excellence.
As well as being a major boost for the local economy, a catalyst for regeneration and supporting the diversification of the local tourism sector, the surfing lagoon – which is capable of generating over 20 different types of wave from 50cm to 2m in height for people of all ages and abilities – will deliver unparalleled social and community benefit. This will include, for example, giving away up to 2,500 free surf sessions per year to local state school children, providing discounted teatime meals for local kids who qualify for free school meals, running activity camps in the school holidays for disadvantaged children and also providing free space to selected charities in a dedicated 'Learning Hive' to be used for running a full-time programme of educational intervention and surf therapy courses.
Significant consideration has been given to the 3,000 lizard orchids at Betteshanger Country Park. There are 600 on the site of the proposed surf park, which will be individually moved to areas which will be enhanced and managed to allow them to thrive. Steps have also been taken elsewhere in the park to help the lizard orchid population to spread and grow in the future.
Jim Storey, Founder of The Seahive, added: "The Seahive will be a purpose-driven, inclusive destination anchored around the power of blue health and its impact on both physical and mental wellbeing – at a point in time where mental health, particularly for young people, is a national emergency."
"As someone who surfs and loves the outdoors, a deep-rooted care of ecology and the environment is in my DNA and that of my team. Alongside the enormous social, community and economic benefits of the scheme, it has been imperative from the very beginning that we don't just generate a net long-term environmental gain in its own right, but that we also help to create a new generation of kids who feel connected with nature and have an intrinsic desire to protect it when they get older."
To support the planning application for the hotel and spa, please visit: https://publicaccess.dover.gov.uk/online-applications/applicationDetails.do?activeTab=makeComment&keyVal=S0GA6KFZ02100 or use the reference 23/01095.
To support the planning application for the surfing lagoon, please visit: https://publicaccess.dover.gov.uk/online-applications/applicationDetails.do?activeTab=makeComment&keyVal=RHL1HSFZ01R00 or use the reference 22/01158.
Sign up for the latest news and updates from Locate in Kent