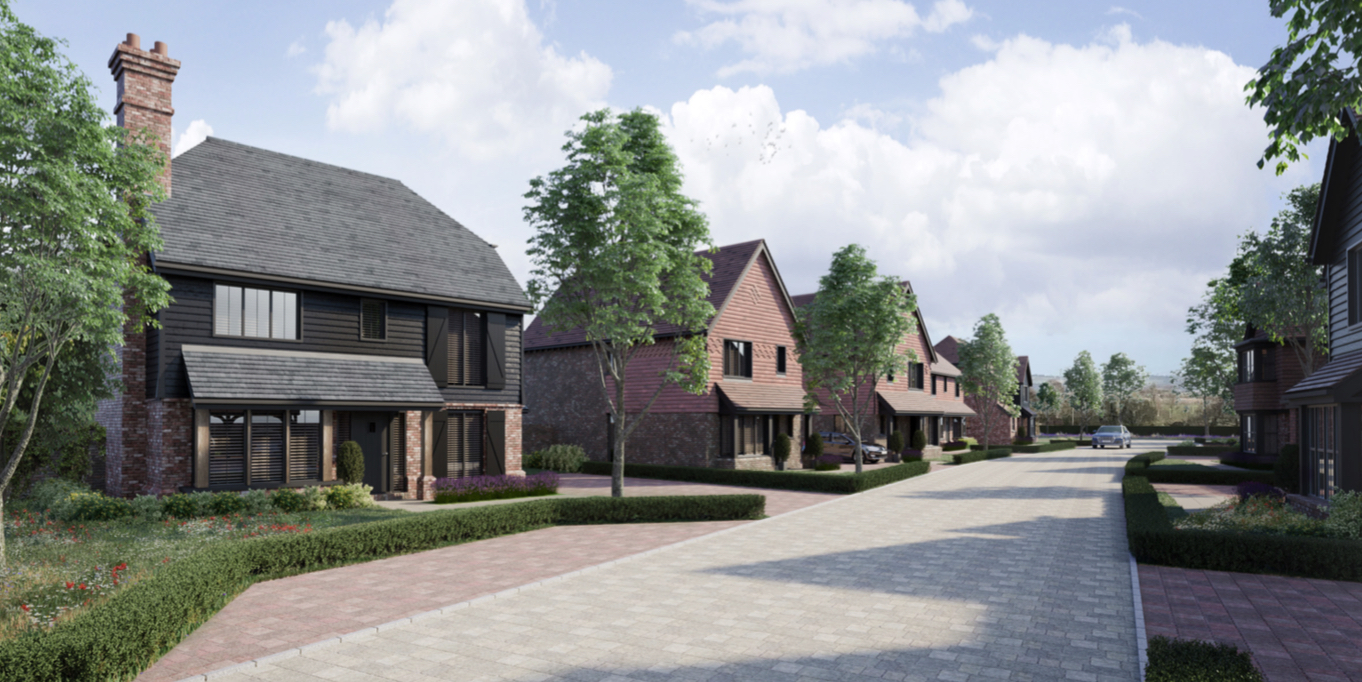 News
Plans for new nursing accommodation and homes submitted
Demelza Hospice Care for Children is working with an award-winning Kent housebuilder to bring forward plans for vital nursing accommodation.
Demelza provides specialist care and emotional support for children with serious or terminal conditions and their loved ones, so they can enjoy their time together as a family, for as long as they have. Their work is a lifeline to over 750 children and families throughout Kent, South East London and East Sussex.
The planning application, which is prepared jointly with Longfield-based Esquire Developments, will deliver new nursing accommodation, a new wheelchair-friendly parking area for up to 80 vehicles, alongside 30 new homes and landscaping across the road from the existing hospice headquarters and care facilities.  The new nurses facility will be built and handed over to the charity by Esquire Developments.
The homes would comprise two- to five-bedrooms, as well as incorporating a range of environmental measures. Improvements would also be made to road safety at the junction between Keycol Hill and Rook Lane – a locally well-known difficult junction.
Commenting on the application, Lavinia Jarrett Deputy Chief Executive at Demelza Hospice Care for Children, said: "While the demand for our vital care is increasing, there is a national shortage of specialist end-of-life nurses. The situation is compounded by the lack of affordable rental accommodation in the area, meaning we often lose candidates to other hospitals elsewhere in London and the South East, where accommodation can be more easily provided.
"This new staff accommodation is vital to our work caring for over 750 children and their families each year."
The site at Hill Farm is opposite the hospice and was the subject of a successful 2018 planning application and approval for 20 new homes – which was unable to be delivered at that time. The new partnership with Esquire Development retains the single storey staff accommodation, the wheelchair-friendly parking spaces and event space for visitors, but crucially is coming forward with a deliverable scheme.
David Braddon, Director at Esquire Developments, said: "Our proposals will deliver the nurses accommodation, improve local road safety and deliver a small development of high-quality new homes in Bobbing, which will help meet wider housing needs for Swale.
"As a longstanding supporter of ellenor hospice, we know only too well the challenges life-affirming charities such as Demelza face in supporting young children and their families during incredibly difficult times. All of us at Esquire are committed to making this development work for everyone, including the local community."
Following a highways and transport study, it is proposed to realign Rook Lane to ensure the sub-standard junction with Keycol Hill is improved and made safer for road users and the local community.
The design recognises the need to improve the environmental performance of new homes, with Esquire Developments taking a fabric-first approach. This means each of the new properties will have its heating and hot water provided by an air source heat pump, rather than a gas boiler, plus an electric vehicle charging point.
Esquire Developments is already familiar with the area, having successfully completed Eden Meadow, a nine-home site at nearby Newington. The firm won gold in the 2020 WhatHouse? Best Small Housebuilder of the Year category, and is hopeful the application will be considered by Swale Borough Council this summer.
To find out more about Demelza Hospice Care for Children, visit: www.demelza.org.uk or for information on Esquire Developments visit: www.esquiredevelopments.com
Sign up for the latest news and updates from Locate in Kent