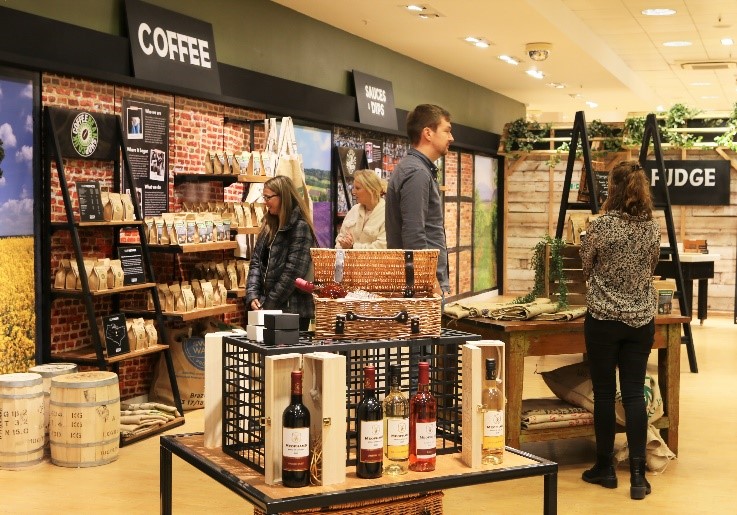 News
Produced in Kent Branches into Retail with a Store for Local Food Producers at Bluewater
Produced in Kent, the membership organisation which champions Kent's incredible food and drinks producers, is venturing into retail for the first time with a store at Bluewater Shopping Centre at Greenhithe.
"The mission for Produced in Kent is to support local food and drinks businesses by spreading awareness of the incredible food and drink on the doorstep in this wonderful county. We've taken support one step further and offered a retail listing in Bluewater. Access to such a high footfall will be a real game-changer for our members. Anyone can apply to have their range stocked as long as they are a member of Produced in Kent." Comments Floortje Hoette CE of Produced in Kent.
Shelves will be well-stocked with a fabulous selection of Kentish products made by excellent local food, drink and lifestyle businesses from across this beautiful county.
Whether you want to start Christmas morning with a steaming cup of limited-edition Hawaiian Kona from Coffee Bean Shop, treat the cider lover in your life to the new Kentish Pip Craft Cider Gift Tube this Christmas which includes a selection of Kentish Pip's core range of award-winning ciders, fill your drinks trolley with delightfully distilled gin from Maidstone Distillery or luscious red wine from Meophams Wine, stuff Christmas stockings with fabulously festive flavours from Fudge Kitchen, or cover the table with complimenting condiments and the finest oils from A Little Bit and Kentish Oils why not take part in the #BUYFIVE campaign and strive to buy five locally produced gifts this Christmas. These brands will be joined by Shepherd Neame and Romney Marsh Wools very soon.
Floortje continues "We want the people of Kent to get involved with our Buy Five Christmas campaign and promise to Buy Five locally produced gifts for friends and family this year. It's more important now so than ever to help support local and invest in your community and local businesses."
To stay up to date with competitions celebrating the opening of the Produced in Kent shop at Bluewater, and to receive information about Produced in Kent, sign up to the mailing list here and follow @ProducedinKent on Instagram and Produced in Kent on Facebook.
The project is a partnership between Landsec, Produced in Kent and its members.
Sign up for the latest news and updates from Locate in Kent