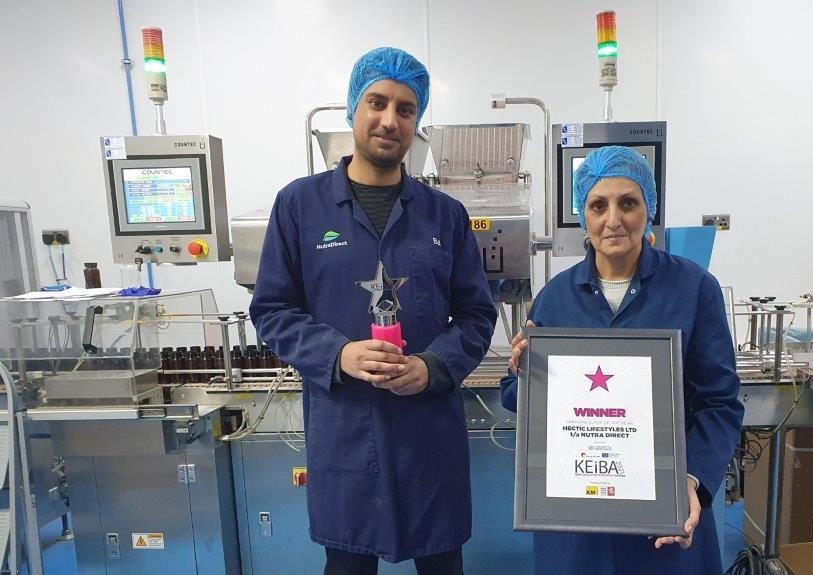 News
Q&A with Nutra Direct, KEiBA 2021 Manufacturer of the Year
Hectic Lifestyles Ltd, trading as Nutra Direct, are still celebrating their success after winning one of the most prestigious honours at the 2021 Kent Excellence in Business Awards.
Locate in Kent sponsored this year's Manufacturer of the Year award, with CEO Gavin Cleary part of a judging panel with the unenviable task of choosing the winner from a strong field of entries, confirming the strength and depth of the manufacturing sector across Kent and Medway.
We caught up with Bal Sander, Managing Director, Nutra Direct following last month's success to find out what being the KEiBA Manufacturer of the Year means to them, and the reasons why the county is such as key location for manufacturing in the UK.
What are your thoughts on winning the KEiBA and what it means to you as Managing Directort and the company as a whole?
The Manufacturing award is seen as a benchmark for Kent-based manufacturers. I was in awe of the some of the previous winners, so it really means a lot to win this year. We have grown so much and continue to keep improving, but this award really gives a boost to everyone throughout the company.
How has been located in Kent contributed to your success?
With the HS1 Rail link, Kent is in throwing distance of a good portion of the country. Not so much recently but meeting a potential client in London for a quick coffee is not something that would have been feasible in the past. I have lived in Kent all my life and wouldn't have ever considered opening up the business elsewhere!
Why is Kent a great place to build a manufacturing business?
The main plus is the people. We have a really large, hard-working candidate pool in Kent, as well as a rich Industrial history. Although we tend to compete with areas with lower business rates and costs, manufacturing in Kent is absolutely thriving right now and there is a really sense of comradery amongst manufacturers, even those in different sectors.
What next for Nutra Direct/Hectic Lifestyles?
In 2022 we open a second facility, increasing our space to around 70,000 sq. feet. Not only does it allow us to increase our capacity on current offerings such as capsules, tablets and powders, it allows us to move into new technologies like Liquid filling and becoming one of the UK's first Gummy Vitamin manufacturers. Exciting times lie ahead.
Sign up for the latest news and updates from Locate in Kent