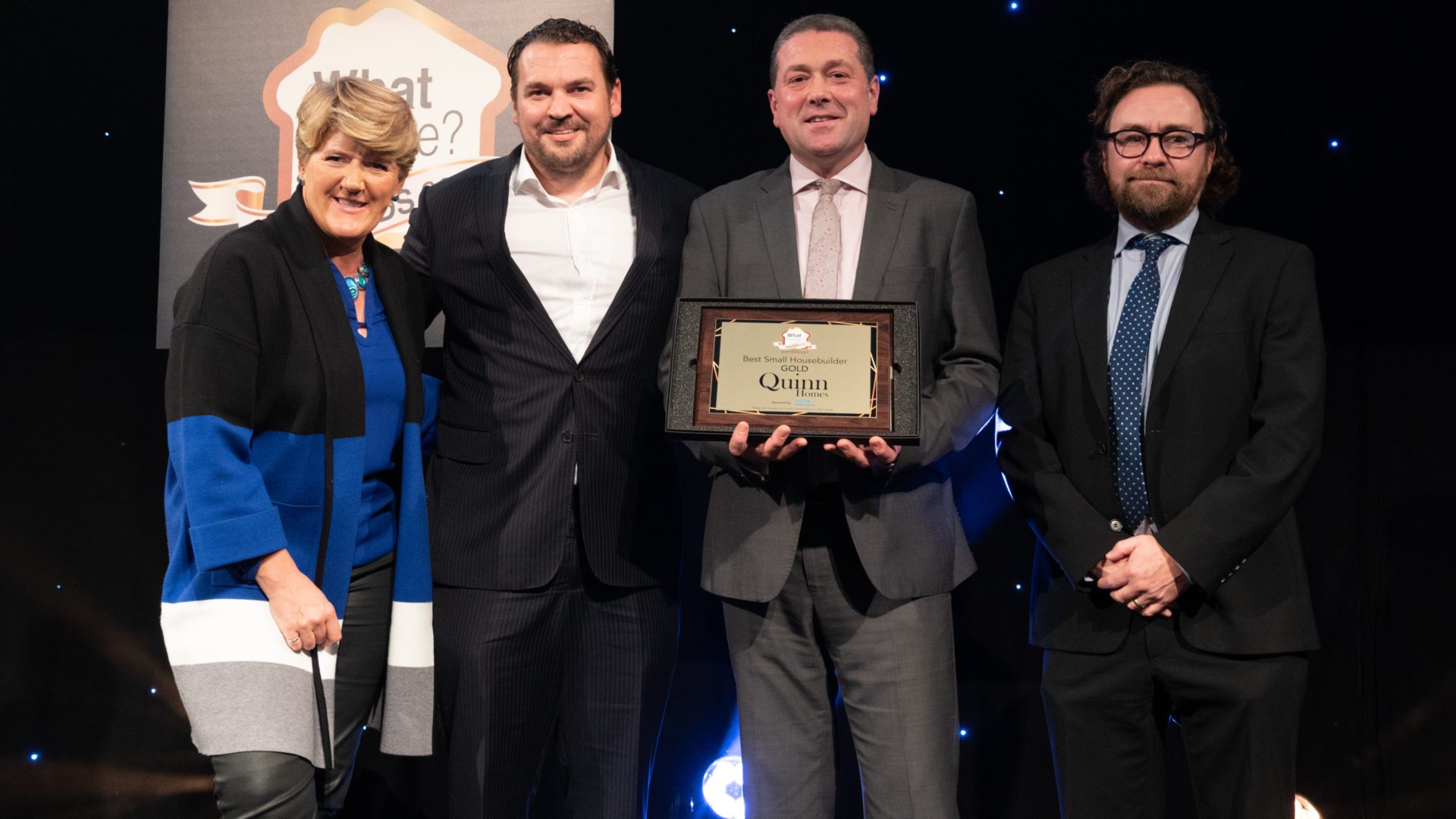 News
Quinn Homes recognised with major industry awards
Quinn Homes has received top industry recognition at the recent Housebuilder Awards and WhatHouse? Awards 2021.
At last night's black tie evening event at the InterContinental London – The O2, it was presented with Best Refurbishment Project for The Engine Sheds at Hammill Park and Best Community Initiative for Eddington Park & Herne Bay Sports Hub, as well as joint Small Housebuilder of the Year. The Housebuilder Awards recognise the best in the housebuilding industry from design and sustainability to community impact and regeneration.
The housebuilding arm of Quinn Estates was also awarded Gold in the Best Small Housebuilder category, while its Eddington Park project in Herne Bay also secured Bronze for Best Apartment Scheme at the prestigious WhatHouse? awards ceremony on Friday (19th November). With a heritage of over 40 years, the awards are a highly respected symbol of excellence in and outside of the industry.
Having been spun out of one of Kent's most proactive and innovative mixed-use developers, Quinn Homes is getting significant industry recognition for its work, particularly in regard to its commitment to supporting local communities and breathing new life into heritage buildings.
The WhatHouse? Awards judges report stated: "Quinn Homes was born out of enterprising mixed-use specialist Quinn Estates and this Kent-based housebuilder is proving quite the progeny. Quinn does bespoke homes; it does restoration and conversion of historic buildings, but above all it is wedded to and engrained in its county community.
"The developer is not just about homes, but the wider social and environmental significance of its footprint, building parks, hospices and schools, investing in its garden of England backyard with vim and vigour. Social impact is as important to Quinn as the residential offering, with funding support for community work and assets across the region it operates in.
"Design is bold and daring, technology sustainable and meaningful, while Quinn's local immersion extends to working with Kent colleges, supporting training and creating jobs. A worthy gold."
Mark Quinn, CEO and Chairman of Quinn Homes, commented: "We are delighted to have won these awards, especially as a new brand against such tough competition. To be acknowledged for our ambition, innovation and design, as well as for supporting the communities in which we build is a huge honour. It drives our team to be the very best we can be and continue to deliver projects to be proud of. A huge thank you to the judging panels and awards organisers for this recognition!"
Sign up for the latest news and updates from Locate in Kent