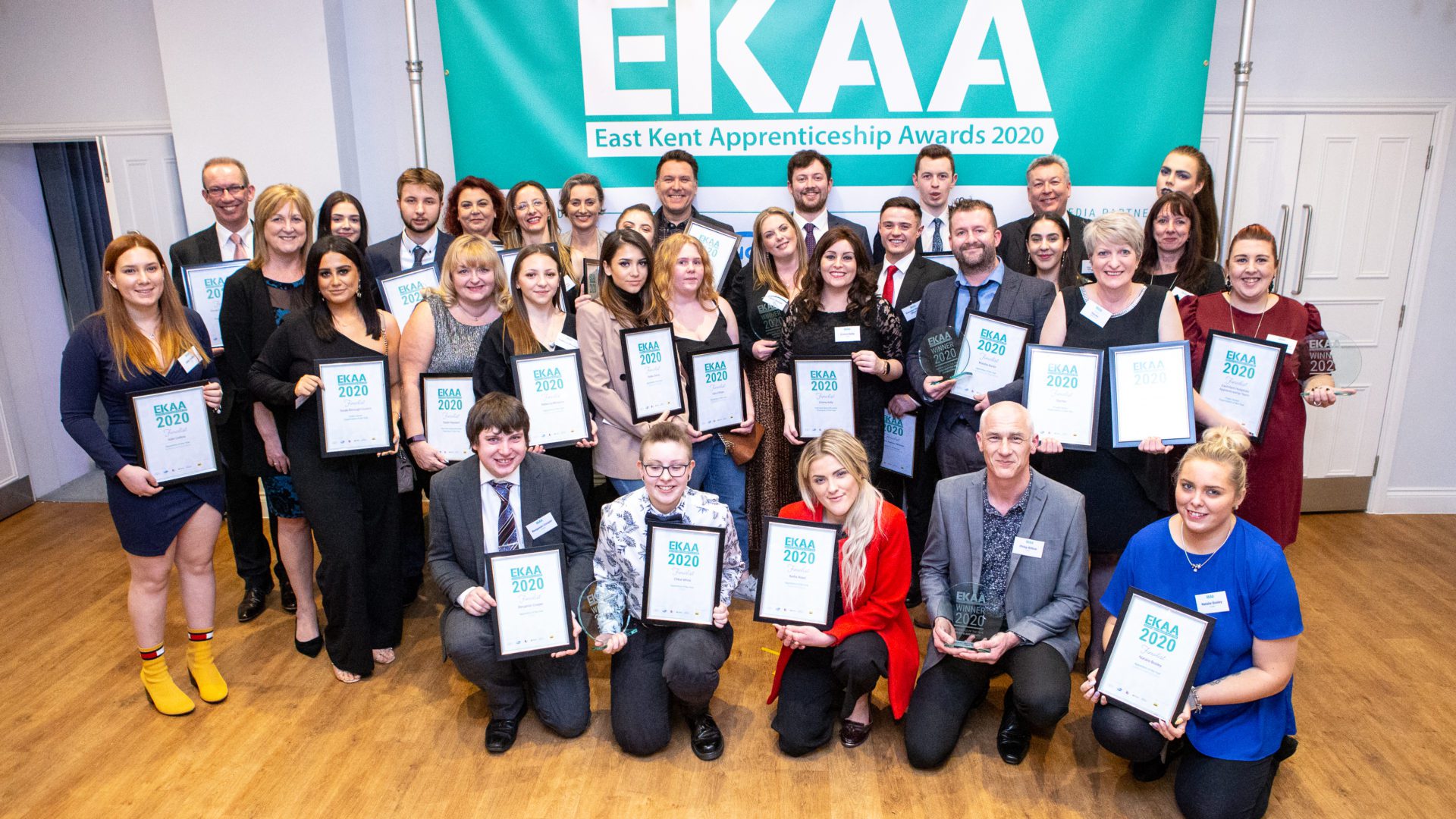 News
The East Kent Apprenticeship Awards are back for 2022!
Do you know an apprentice that has gone above and beyond this year?
As 2022 fast approaches, the nomination process for the fourth East Kent Apprenticeships Awards opens for all East Kent businesses to put forward their best apprentice.
EKAA 2022 returns to seek out exceptional apprentices and the East Kent businesses who are helping them pave their way into the world of work. Organised by leading Kent marketing agency Pillory Barn and in partnership with the EKC Group, the awards ceremony returns as a gala evening in 2022 after the in-person event had to be cancelled in 2021 due to Covid restrictions.
From our sponsor ITL Group, Business Development Manager Tom Ackrill said "Apprenticeships are something that I hold dear, having been one myself at the start of my career. The skills gained not just academically but socially and professionally from being in the workplace as well as in education are simply invaluable, and often push candidates to be ahead of others in their field when pursuing career options in the future. ITL are proud to sponsor the East Kent Apprenticeship Awards once again for 2021."
The following categories that businesses can enter their apprentices into have remained the same for 2022 after large popularity in 2021:
    Health, Social Care & Science
    Education & Early Years
    Hair & Beauty
    Hospitality & Retail
    Business Management & Administration
    Construction
    Engineering
    Creative & Digital
Also returning are two categories which focus on public and private sector businesses and organisations that go the extra mile to offer high quality apprenticeships and champion them as a pathway into employment.
The 'East Kent Apprenticeship Champion of the Year' award celebrates an individual who has acted as East Kent's best ambassador for apprenticeships, going above and beyond to promote these opportunities to a wider audience.
Finally, carrying over from last year the 'Apprenticeship Champion of Covid-19' category remains, to celebrate those apprentices that have shown adaptability and made a real difference over the past year, despite tricky circumstances during the pandemic.
Miranda Chapman, Managing Director of Pillory Barn, said: "We are thrilled to be working with the East Kent College Group for a fourth year, and are excited to be able to come together to celebrate apprenticeships across East Kent in person in 2022.
"2021 has been another challenging year for many businesses as they continue to recover from the impact of the pandemic, and it to their enormous credit that they are continuing to support young people looking to make their mark on the workplace.
"Apprenticeships are a great opportunity for young people, which is why these awards are so important, shining a light on those in East Kent who are making a huge impact on all areas of business, bringing new ideas and fresh perspectives, inspiring colleagues and making a difference."
"We look forward to celebrating all that apprentices across East Kent have achieved over the last year and encourage businesses within the area to take a look at the categories and nominate their apprentice superstars."
To enter the awards, visit www.eka-awards.co.uk and complete the nomination form for one or more selected categories, explaining in no more than 250 words why your nominee deserves recognition. Entries are welcome from the Ashford, Folkestone & Hythe, Canterbury, Swale, Thanet and Dover districts of Kent.
The deadline for nominations is 20th December 2021. 
To find out more about the East Kent Apprenticeship Awards, visit the website onhttps://www.eka-awards.co.uk/ or follow EKAA on social media: Twitter, Facebook, Instagramand LinkedIn.
Sign up for the latest news and updates from Locate in Kent