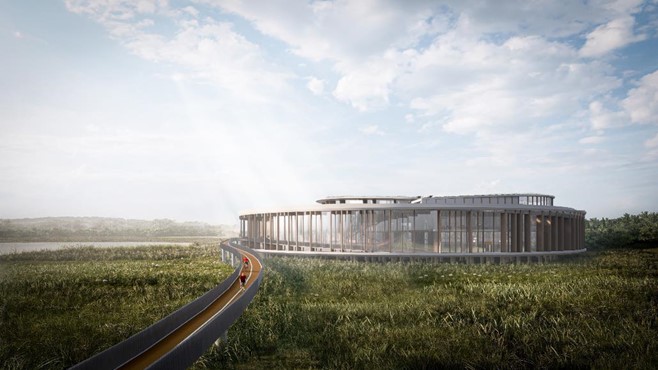 News
Business and education working together to build skills in Kent – Brompton's arrival could show the way
Earlier this year Brompton revealed plans to create a revolutionary bicycle factory of the future lifting production capacity to around 200,000 bikes per year and supporting thousands of jobs across the Kent and Medway region.
A planning application due this Autumn will mark the start of a period of public consultation, with an opportunity for the public, businesses and decision makers to shape the final proposals over the coming weeks. It will be a big step along the road to seeing this exciting project happen and a reminder of the continued strength and attraction of this strategic location between London and continental Europe to UK plc.
In February we joined Brompton CEO Will Butler Adams at the site alongside the architect Guy Hollaway and Cllr Gerry Clarkson, Ashford borough council leader for the official launch of a scheme that packs a punch in so many ways. The artist's impressions promise a real wow factor in terms of both its design and sustainability, with the first of three factories to be built on stilts and overlooking 60 acres of rewilded publicly accessible nature reserve. It will be a global headquarters, a centre for future product research and a state-of-the-art manufacturing site for the UK's largest bicycle manufacturer, starting with a 190,000 sq. ft. of production space for the company's new smart e-bike range. This in itself is great news for Kent with a promised GVA uplift of around £290 million per year, but it's off-site where this project could bring even wider benefits in ensuring a conveyor belt of talent to support high-paid, highly skilled jobs in Kent and Medway for generations to come and playing a part in a familiar problem for the manufacturing sector.
An ever-present challenge for Kent and Medway as a region, as it is across the UK, if not the world, is ensuring both existing and future employees have the skills that businesses are looking for and the economy needs. According to a recent report from McKinsey & Company 87% of companies worldwide are aware that they either have a skills gap or will have one within a few years with technical skills shortages in areas such as AI and robotics affecting future development.
As our Making More, Smarter blog pointed out in July the reason the UK has the 5th largest economy is because it is the 9th largest manufacturing economy with the South East of England having the UK's largest concentration of manufacturing facilities with some 290k people working in the sector.  Kent is at the forefront of construction supply chain, food processing and FMCG manufacturing sectors. The arrival of Brompton highlights the region's potential in advanced manufacturing too, with some of the most innovative engineering companies based in this corner of the UK. While automation is one part of the solution to aid productivity and meet product demand, having access to a workforce with the right level of skills remains vital to ensuring UK manufacturing remains competitive – and in Kent for the sector to continue to thrive.
In Kent there has long been a recognition of the value of a proactive, partnership led approach to building the skills base and retaining the number of people who graduate from the region's schools, colleges and universities providing a magnet for further inward investment by employers into the region.  Kent Invicta Chamber of Commerce and other partners, including Locate in Kent, have developed a skills strategy to ensure this happens.
While the Brompton project won't address such challenges in isolation, the importance the company has placed on skills development from the start, reaching out to further and higher education providers for a localised strategy deserves credit and provides a template for others to follow.
We are also seeing this focus on partnership as a key component of the regeneration of a number of key strategic sites including the nearby Newtown Works, the site of a proposed £250 million mixed-use film studio led scheme that includes a new Kent Film School, in partnership with local further education providers.
Over the last year or so Locate in Kent has worked closely with EKC Group and Canterbury Christ Church University's School of Engineering, Technology and Design (CCCU) in advising Brompton on how it can contribute to skills development in the region, including apprenticeships, on the job training and establishing relationships with local colleges.
Subject to planning approval, a number of initiatives are planned between CCCU and Brompton to drive innovation and help develop the next generations of diverse manufacturing and engineering talent.  The second phase of EKC Group's Ashford College project will also include an expanded engineering provision to ensure Brompton has the capacity to create their future workforce from within the local community.
Seeing these fantastic proposals from Brompton reach their first milestone with the submission of a planning application to Ashford Borough Council will be great to see and there are many reasons they should be welcomed, not least in demonstrating how Kent's high tech, sustainable and skilled workforce is already playing in growing the economy of this well-connected part of the UK.
Manufacturers call on new government for help to face down current challenges
Sign up for the latest news and updates from Locate in Kent