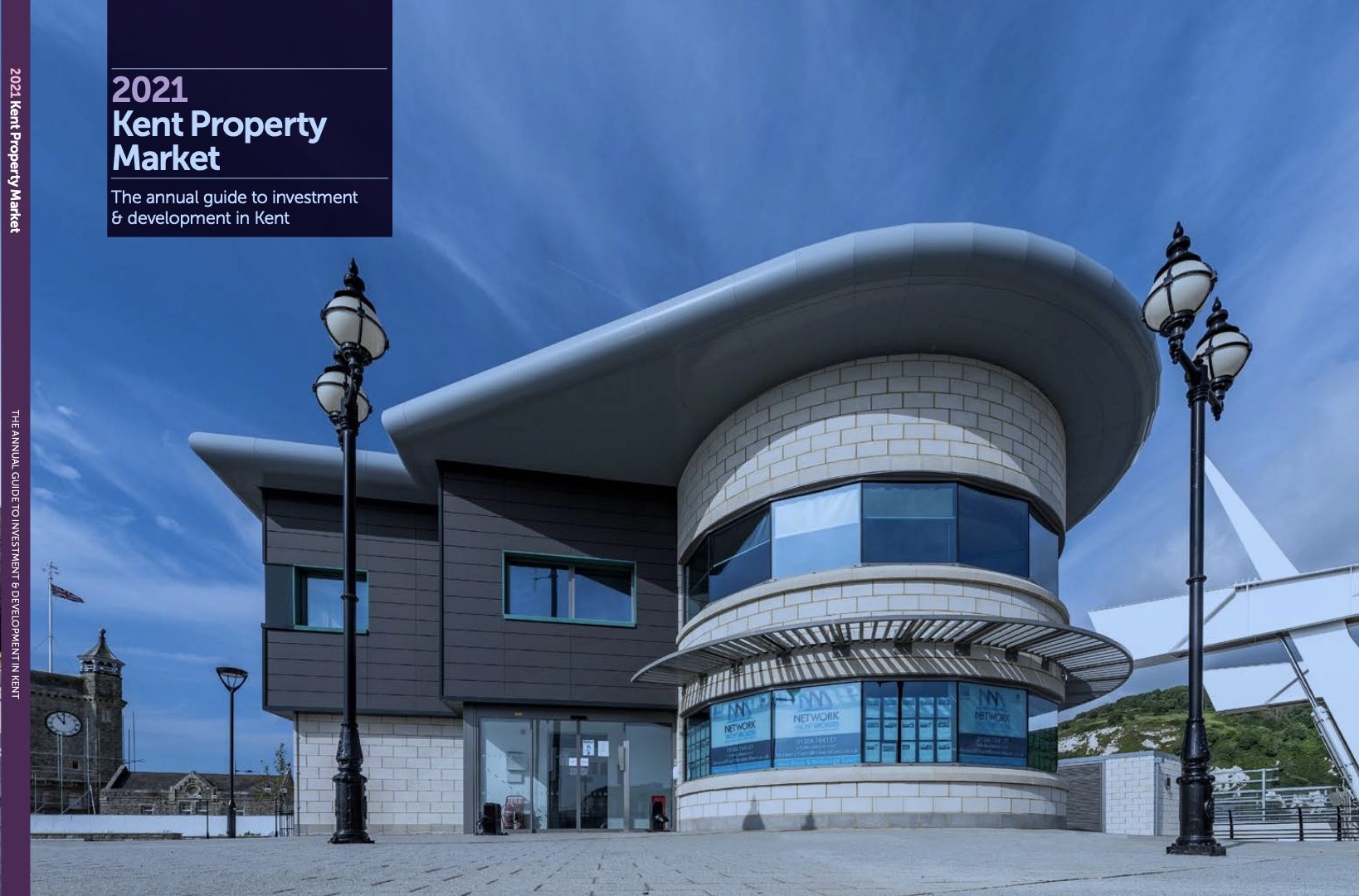 News
Industrial demand driving strong future for Kent's property industry
Take-up of industrial and logistics space looks set to significantly exceed the record levels of 2020, according to the Kent Property Market Report – with more than a four-fold increase.
The 30th edition of the report, produced by Caxtons Chartered Surveyors, Kent County Council and Locate in Kent, suggests that the county's distribution property market has once again performed well, with significant lettings on the new stock coming forward.
Mark Coxon, Director of Business Space – M25 East at Caxtons, which has offices across Kent, said: "The structural changes already under way in the property market have gathered pace in Kent over the last year.
"The county is playing an important role in meeting the growing demand for industrial space inside and beyond the M25. Across the home counties there remains a shortage of stock, and over the last 12 months there has been significant new space coming forward through pre-lets in Kent.
"Supply chain challenges presented by the pandemic and HGV driver shortages have added further to stock storage requirements, and driven further investment interest in Kent."
Caxtons' team has calculated that over the last three years there has been an annualised average prime rental increase of nine per cent. Despite the recent sharp increase in stock there has been a total increase of 48 per cent in average prime industrial rents over the last five years.
The continued expansion and upgrading of facilities by retailers, parcel delivery operators and third-party logistics businesses has driven the pace of growth, with Grade A large floorplate space in Kent in high demand.
Two of the largest developments to be let over the last 12 months were at Bericote Properties' The Powerhouse on the site of the former Littlebrook Power Station, near Dartford, where an Amazon Distribution Centre in excess of 215,000m2 (2.3m ft2) – and the company's biggest in Europe – started operation in the summer. Thanks to the UK's largest rooftop PV installation, the building has achieved BREEAM Excellent and EPC A rating. On the same site, Ikea pre-let a 41,821m2 (450,00ft2) unit which reached practical completion in October.
Other major lettings include those at M2 City Link at Medway City Estate and Trilogy in Sittingbourne, following its earlier pre-let to Selco earlier in 2020. Location 3 and Funding Partners Hermes pre-let Unit 2a and 2b to Argos in the autumn. The building comprised 6,728m2 (72,420ft2).
Also in the autumn, GOYA and Aberdeen Standard let a 4,449m2 (47,888ft2) unit, Orbital 48, at Littlebrook to DPD.
In Sittingbourne, the Tavis House and Barwood Capital Trilogy units 1 and 2, providing 6,810m2 (73,302ft2), were let to DHL Parcels Ltd. The 5,740m2 (61,783ft2) Europa unit at Trident Close, Sittingbourne is under offer. George Wilson Holdings completed a 5,574m2 (60,000ft2) extension to an existing 13,006m2 (140,000ft2) warehouse at Lakesview International Business Park, Sparrow Way, Canterbury. Global Freight took occupation in January.
The market has also seen a number of corporate manufacturer lettings including Unit A, comprising 6,400m2 (68,891ft2), at The Arc, Snodland. Owned by LaSalle Investment Management and Wrenbridge, the building was let to HVAV Swegon, a leading supplier in ventilation, heating, cooling and climate optimalisation equipment in late 2020. Earlier in the year, luxury chocolatier Artisan du Chocolat took the 6,054m2 (65,169ft2) Unit M at Orbital Park, Ashford, on a ten-year lease.
Goodman is currently speculatively constructing 22,184m2 (238,800ft2) at Crossways: 249, in Dartford. This follows on from the company's continued pre-let success at London Medway Commercial Park, Rochester.
In terms of Kent's industrial and logistical space pipeline, Panattoni, the world's largest privately owned industrial developer, has been granted permission to deliver 176,580m2 (1.9m ft2) of quality warehousing and distribution space close to junction 4 of the M20 at a 90-acre site which was previously home to Aylesford Newsprint. The £180m investment is expected to be fully developed and occupied by the third quarter of 2023.
Roger Gough, Leader of Kent County Council, said: "It is important that we focus on Kent's commercial property strengths in order to support the county's recovery. We expect the UK economy will return to pre-pandemic levels by the end of 2021, and the outlook for the property market as a whole does appear more positive than this time last year."
While the county mirrors the national picture in many sectors of the property market, it is capitalising on its location.
Gavin Cleary, Chief Executive of Locate in Kent, added: "The county offers a competitive advantage compared to other locations across the South East and beyond, enhanced by our links to continental Europe which remain vital to distribution networks. To support the county's commercial property sector we, along with our partners at Kent County Council, continue to push for the new Lower Thames Crossing and investment in our road and rail network, which will further enhance our county's connectivity."
The report was unveiled on 4 November to more than 300 guests at a virtual event, which included keynote speeches by Cathy Parker, Co-Chair of the Institute of Place Management, and Lisa Carlson, Chair of the Association of Town & City Management.
The Kent Property Market Report is supported by Cripps Pemberton Greenish, DHA Planning, Hollaway Studio, MHA Macintyre Hudson and Royal Institution of Chartered Surveyors, (RICS).
For further information on the 2021 Kent Property Market Report visit: www.kentpropertymarket.com
Sign up for the latest news and updates from Locate in Kent