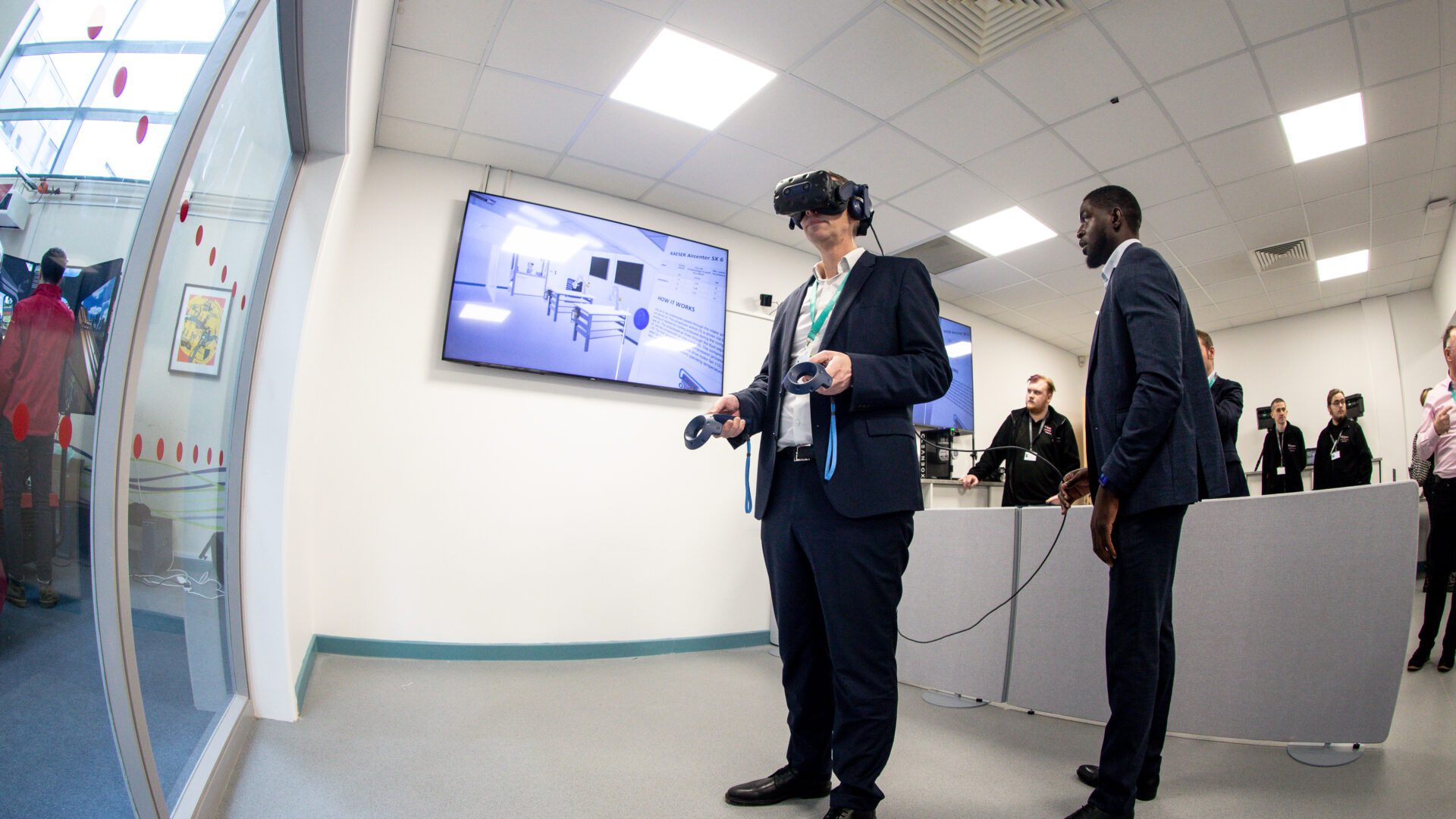 News
KENT FURTHER EDUCATION COLLEGES LAUNCH SUSTAINABLE SKILLS REVOLUTION FOR THE SOUTH-EAST
New centres of excellence will accelerate skills urgently needed for a net zero future in key sectors including: horticulture, manufacturing, engineering and construction.
FE colleges across Kent have put down a marker to meet the sustainable skills gap challenge with new courses and facilities equipped with the latest technologies and learning tools to support businesses as they adapt to a net zero future.
This week, EKC Group; Hadlow College, part of North Kent College; and MidKent College have launched new skills accelerator centres providing employers with a pipeline of talent and the expertise they will need as de-carbonisation gathers pace.
A third of UK businesses do not believe their workforces are currently equipped with the skills necessary to achieve net zero and with less than a decade before petrol engines are phased out and new gas boilers are banned – the time to prepare is now.
These new centres are the latest part of a broader Kent skills strategy aimed at ensuring Kent and Medway is ready for the opportunities ahead, while supporting a drive by politicians at all levels for a greener, more sustainable economy.
After almost two years in the planning, a new green engineering and mechatronic lab was officially unveiled at the Canterbury campus of EKC Group on Tuesday (21/3)– with a further green engineering and design centre opened in Ashford.
On Wednesday (22/3) the doors officially opened to the new Green Skills Factory at the Maidstone campus of MidKent College. Hadlow College, the UK's only rural and land-based college, officially formally launched its green horticultural centre on Thursday (23/3).
State-of-the-art technologies installed at Ashford and Canterbury will introduce students to electric car production and the components used to make them with collaborative robotics teaching skills for the next industrial revolution. Kuka Robotics, one of the world's leading suppliers of intelligent robots, plant and systems engineering is among the high-profile tech companies and consultants backing the project here.
The future of farming will be the focus at Hadlow College, where training courses will showcase more sustainable methods of food production out on a newly planted vineyard and orchard, from Delta-T devices that measure soil moisture to automated spraying and robotic harvesting.  The Haynes New Holland robotic tractor will be put through its paces once the first vines are ready.
In Maidstone, the energy crisis has provided added impetus to new training courses that will help solar panel contractors, for example, to recruit people they need now to meet demand that higher energy costs have created.  Electricians and heating engineers will be able to access training for sustainable new build construction methods but also retrofitting century old housing stock too as gas is phased out and renewables take centre stage.
As well as providing career opportunities for future students all three of these net zero focused facilities will also provide a launchpad for businesses looking to test how automation, robotics and other sustainable technologies can support or benefit their businesses, as well as retraining existing staff.
Simon Cook, Principal and Chief Executive, MidKent College and Chair of Kent Further Education (KFE), which champions the FE sector across Kent and Medway, said:
"The launch of these new learning centres, and the partnerships with industry specialists that will design the training and development offered, will ensure that local employers can call upon the skills and best practice needed to transition to Net Zero as well as putting down a marker for Kent as a leading hub for the green economy.
"A third of UK businesses do not believe their workforce is currently equipped with the skills necessary to achieve net zero. By coming together as one, Kent's FE colleges are seeking to ensure that changes."
Graham Razey OBE, Chief Executive Officer for EKC Group, said: "FE colleges have always been at the forefront of societally transformational leadership projects, and to be kickstarting a green revolution for businesses across the county is absolutely wonderful.
"Our new engineering centres at Ashford College and Canterbury College will help to develop the skills of the future for our students, whilst simultaneously ensuring employers have the opportunity to test their own decarbonisation plans in a sector leading environment."
David Gleed, Chief Executive and Executive Principal, North Kent College, said: "We are thrilled to be a part of this sustainability project within Kent and as we progress, we will be looking to engage with as many businesses as we can and invite them to join us and our FE sector partners in devising new skills solutions that will support career opportunities now and in the future. The opening of our new Green Horticultural Centre at Hadlow College is just the start."
The new green learning centres represent the latest stage of a government backed partnership launched in October 2021 by EKC Group, MidKent College and North Kent College. Further details of what each site will be delivering are listed below:
EKC Group has used its share of £5.6 million from the Government's Strategic Development Fund to invest in cutting edge robotic, virtual and augmented reality technology and hi-tech 3-D scanners. The new green engineering centres at its Ashford and Canterbury campuses, will not only boost skills in engineering and advanced manufacturing – from self-driving cars to automated production lines but will be ready for new innovations coming down the line. The college has worked with sustainable manufacturing consultancy HSSMI to plan the new centre. Additional suppliers have included: Kuka Robotics, Create 3D and automotive tech-learning specialists Lucas Nuelle.
To find out more, visit: www.ekcgroup.ac.uk
MidKent College has used its allocation to open a Green Skills Factory as well as a Home Energy Centre at its Maidstone campus providing hands on experience of renewable technologies and low energy solutions plus a simulator that will re-create different scenarios for training purposes, including wind turbines and energy storage.  All equipment has been installed to industry standards ready for a range of courses – including level three courses for plumbing and heating engineers wishing to become MCS registered. MCS is the governing body for heat pumps.
To find out more: visit: www.midkent.ac.uk
Hadlow College, part of North Kent College, meanwhile will be the location of a Green Horticultural Centre, a new state-of-the-art facility focused on promoting sustainability. As part of the project a new sustainable orchard and vineyard that students will use to learn about automated spraying, robotic harvesting and drones has been planted. New technology, supporting the latest methods of irrigation, include Delta-T devices that measure levels of soil moisture.
To find out more, visit: www.hadlow.ac.uk
Sign up for the latest news and updates from Locate in Kent